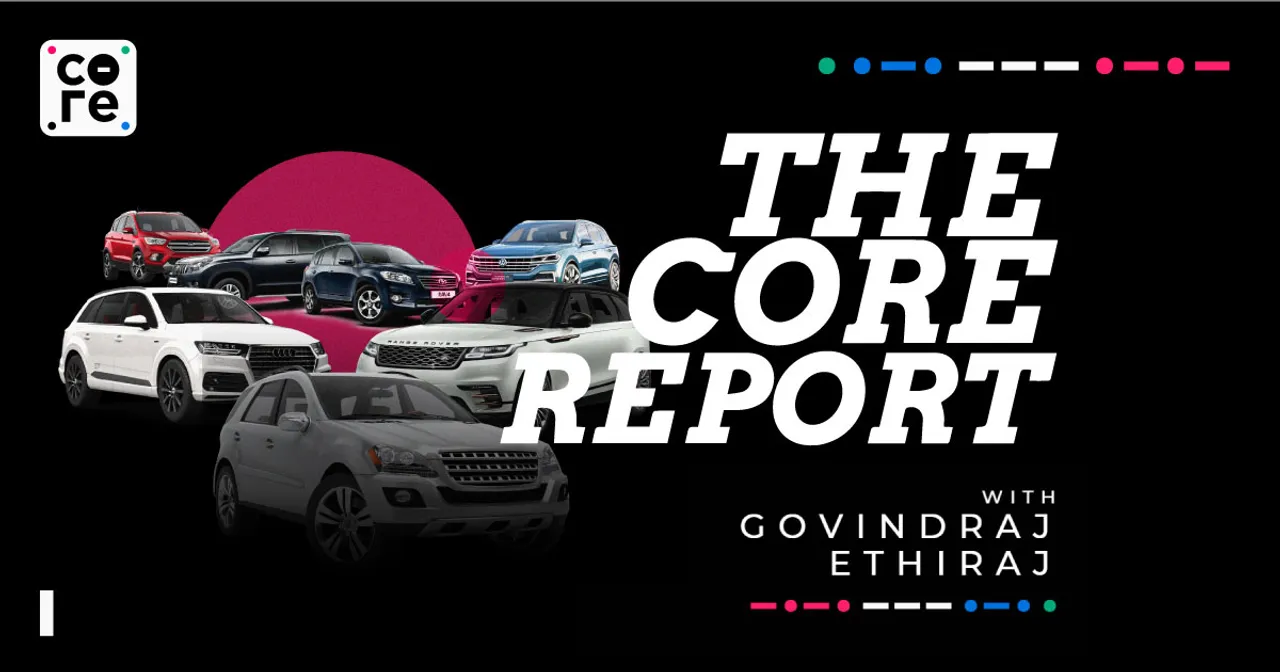 On today's episode, financial journalist Govindraj Ethiraj talks to Manish Raj Singhania, President of FADA (Federation of Automobile Dealers Association) as well as economist Dr Brinda Jagirdar.

---
Our Top Reports For Today
[00:00]

 

Stories Of The Day
[01:00]

 

Rating agency Fitch upgrades India GDP target to 6.2%, Indian stockmarkets hit 2-week high
[07:37]

 

Indians are buying fewer entry level cars leading to massive inventory buildups among dealers
[16:05]

 

The Rs 200,000 crore subsidy bill for food grain, how will the Government foot it?
[23:15]

 

Delhi Air Quality Stays Severe, Govt now to go for odd-even day car scheme
[24:43] Emirates wants to convert passenger aircraft to cargo on strong cargo demand
---
NOTE: This transcript contains only the host's monologue and does not include any interviews or discussions that might be within the podcast. Please refer to the episode audio if you wish to quote the people interviewed. Email [email protected] for any queries.
---
Fitch Upgrades
In a general boost for India's economic confidence, ratings agency Fitch on Monday upgraded India's gross domestic product (GDP) mid-term growth forecast by 70 basis points to 6.2 per cent.
Its earlier forecast was  5.5 per cent earlier. 
For 2023-24, Fitch has said that India is expected to grow at 6.3 per cent.
Fitch also blamed China for pulling down the estimate of 10 emerging countries to 4 per cent from 4.3 per cent earlier, reported the Business Standard. 
"The reduction is mainly due to a large reduction of 0.7 percentage points to the estimate of China's supply-side growth potential," the agency said in its report "Emerging-Market Potential Growth Weakens as China Slows". China's mid-term growth forecast has been cut to 4.6 per cent from 5.3 per cent. 
"However, we have made large upgrades to India and Mexico, with the latter benefitting from a much better outlook for the capital-to-labour ratio. 
India's estimate is higher at 6.2 percent from 5.5 per cent and Mexico's at 2 per cent from 1.4 per cent," it added.
The agency also said the latest estimates remain below its pre-pandemic potential growth projections for all the top 10 emerging markets (EM10), except Brazil and Poland.
"This reflects deteriorating demographic trends and the legacy of disruptions from the pandemic. The latter is partly reflected through revisions to predictions for capital stock and productivity growth," it said. "But some 'scarring' effects are hard to capture and we have now made additional downward 'level shock' adjustments to historical estimates of potential GDP in 2020 and 2021 for Mexico, Indonesia, India and South Africa."
Meanwhile, Indian markets had a good day today, closing at a two week high thanks to a positive sentiment flowing in from the United States.  
The benchmark Sensex advanced 595 points to close at 64,959. The Nifty50, on the other hand, closed at 19,412, up 181 points.
Twelve of the 13 major sectors logged gains after data pointed to a cooling U.S. labour market, raising hopes that the Federal Reserve is done with rate hikes, Reuters reported/ Broader Asian markets also extended gains, with the MSCI Asia ex-Japan index rising over 2%.
"The strong run in Indian equities can continue further as the country offers the best growth opportunity within Asia," analysts at Morgan Stanley told Reuters, adding that higher-for-longer rates in the U.S. "will not necessarily lead to rate hikes by the Reserve Bank of India."
Foreign portfolio investors continue to sell Indian stocks though.
The rupee strengthened 7 paise to close at 83.22 against the U.S dollar on Monday. It closed at 83.29 on Friday.
Meanwhile, oil is currently quoting just below $86, a little higher than what it was over the weekend.
Speaking of oil,  investment bank Morgan Stanley has estimated a sustained oil price of $110 a barrel could undermine India's economic stability, likely forcing the central bank to resume hiking interest rates, reports the Business Standard. 
I will come to whether this is anything to worry about but the calculations are useful to know. 
As the world's third-biggest consumer of oil, India is one of the most exposed economies in Asia to rising crude prices. A $10 increase in oil prices boosts inflation by 50 basis points and contributes to a 30 basis-point widening in the current account balance, Morgan Stanley's economists estimate.
Oil above $110 a barrel would be destabilising for India's economy, the investment bank said, resulting in higher domestic fuel prices and second-round inflationary effects. The current account deficit would also likely widen to beyond the comfort level of 2.5 percent of gross domestic product, it said.
"With macro stability indicators stretched under this scenario, we think currency depreciation pressures could rise and lead the Reserve Bank of India to restart its rate hike cycle," Morgan Stanley's economists led by Chetan Ahya wrote in a note on Sunday. 
The central bank's forecasts are based on a crude oil price of $85 a barrel in the second half of the current fiscal year, which ends in March 2024.
Morgan Stanley's base case is for oil prices to be sustained at $95 a barrel, which would be more manageable for the economy, it said. 
Now, the important question of course is what is the overall prognosis for oil ?
Actually as things stand, it's good, from a purchase price point of view. Despite the tensions in the middle east, oil prices have not really shot up, nor did they do so when Iran and Russia cut back on output.
The problem is demand which is again the concern now as we have been discussing on The Core Report.
India's basket of crude oil prices averaged $87.09 a barrel as of Nov. 2, compared with an average of $90.08 a barrel for the full month of October. 
Lest you go away thinking all is hunky and dory, it is not. There are other big voices who are predicting tough times.
A global recession could be triggered by the conflict in the Middle East as the humanitarian crisis compounds the challenges facing an already precarious world economy, two of Wall Street's biggest names have warned recently, Moneycontrol quoted interviews by both to the Sunday Times.
Larry Fink, chief executive of the world's largest asset manager, BlackRock, said a combination of the Hamas atrocities of October 7, Israel's resultant attack on Gaza and Russia's invasion of Ukraine last year had pushed the world "almost to a whole new future".
In a separate interaction Jamie Dimon, the chair of America's biggest bank, JP Morgan, added that the world is facing a crisis that is "arguably the most serious since 1938".
Indians Are Buying Less Entry Level Cars, Causing Inventory Buildup
Back home and on the road quite literally, India's retail vehicle sales fell 7.7% from a year earlier in October, the Federation of Automobile Dealers of India or FADA said on Monday, adding that a build-up of inventory of passenger vehicles (PV) was a cause for concern.
The average inventory for the PV segment ranged from 63 days to 66 days in October, an all-time high, the Federation of Automobile Dealers Association (FADA) said. Inventory days refers to the average number of days it takes to sell a unit.
Anything more than 30 days and dealers get hurt, Manish Raj Singhania, President of FADA told The Core Report
Entry-level vehicles mostly from  top carmaker Maruti Suzuki (MRTI.NS), Tata Motors (TAMO.NS), and Kia Corp (000270.KS) contributed most to the inventory build-up, Reuters said. While, in keeping with past trends, demand for sports utility vehicles continued to soar.
Mr Singhania told The Core that the Navratra period, leading upto the Dussehra festival in October were good, with two wheelers sales up 22% compared to last year and four wheelers up 18%.
The concern however was post Diwali, he said, which comes up next weekend.
I reached out to Mr Singhania and began by asking him why inventory levels were so high?
---
How Will The Government Foot The Rs 200,000 Crore Bill
The Prime Minister Mr Narendra Modi on Sunday announced he was extending the  Pradhan Mantri Garib Kalyan Anna Yojana (PMGKAY), a free foodgrain distribution scheme, for another five years. 
The move aims to provide free food grain to 800 million poor Indians at the cost of around Rs 200,000 crore.
This also sets a poverty benchmark of sorts since almost 57% of the population will be entitled to receive this foodgrain.
The move may be fiscally manageable in the current financial year but could put pressure on government finances in the future if food grain prices rise. This new version of PMGKY initially had a tenure of one year and was scheduled to end on December 31, 2023.
The food subsidy allocated for this financial year was around Rs 197,350 crore, of which approximately 48 per cent (Rs 95,149 crore) had been exhausted as of September, according to the Controller General of Accounts (CGA) reported Business Standard 
The question is how does this stack up given the current finances of the Government and the other subsidy programmes it has lined up ? 
To understand it better, I reached out to Dr Brinda Jaghirdar, economist and earlierGeneral Manager and Head of Economic Research, State Bank of India, based at its Corporate Office in Mumbai.
---
Wipro Says Come Back To Office
Almost more predictably, more and more companies are asking employees to return to office.
India's fourth largest software services firm Wipro informed employees that it is implementing a compulsory hybrid work policy starting November 15, where staffers have to be present in the office at least three days a week, Moneycontrol is reporting
The missive from Wipro, which went out on November 6 and has been seen by Moneycontrol, follows companies like TCS and Infosys, who have mandated that employees work from office five days a week and ten days a month, respectively.
"Starting November 15, all employees must be present at their assigned office location for at least three days each week. This change aims to enhance teamwork, facilitate face-to-face interactions, and strengthen Wipro's culture," the mail from Wipro's Chief Human Resources Officer Saurabh Govil read.
Air Quality
The national capital of Delhi has  announced on Monday that an "odd-even" scheme for vehicles will be implemented from November 13 to 20  even as air quality remained severe for the sixth day in a row.
Having been there over the last week, I can testify to the sheer and monstrous level of pollution and its ability to cause havoc with your constitution.
The odd-even rule is a traffic curb in which private vehicles with registration numbers ending with an odd number will be allowed on roads on dates making odd numbers and those with an even number on dates making even numbers.
The Delhi government has also ordered all school classes except X and XII to be held online till  November 10. 
The heads of schools can decide to conduct the classes for students of X and XII either through online mode or call the students to school for physical classes. 
According to the data issued by the System of Air Quality Forecasting and Research (SAFAR-India), the air quality in the National Capital was recorded at 488, up from 410 a day ago. 
Emirates
Emirates is considering an order for Boeing Co. or Airbus SE freighters and may convert more passenger jets to expand its cargo fleet.
This is interesting, because among other things, sea freight rates and yields are dropping while air seems to be increasing, at least going by Emirates demand for it.
Last week, Tushar Jani of logistics company CSC and earlier co-founder of Blue Dart told me Air India was shipping goods from New York to Dubai but via Delhi, hinting at the demand as well as the cost effectiveness of Air India.
Emirates and Qatar Airways are among the top three biggest cargo carriers by international capacity, jostling with FedEx Corp. for the top spot, Bloomberg said.
Emirates' cargo fleet is currently all Boeing and some of its 100 + Boeing 777 passenger planes could be converted for cargo use too, the company told Bloomberg.
The interesting part is that while cargo yields have fallen from their Covid peak, they remain 20% above pre-pandemic levels. Demand is also increasing in the lead up to Christmas, said Bloomberg.
Global air cargo demand grew 1.5% in August from a year earlier, the first increase in 19 months, according to the International Air Transport Association. 
Middle Eastern carriers saw a 1.4% on-year rise in cargo volume, continuing a three-month upward trend, while capacity was 15.7% higher than August 2022.
Emirates SkyCargo has 11 dedicated Boeing freighters and added two wet-leased 747 cargo planes during Covid. It also ordered five new Boeing freighters a year ago and is converting 10 Boeing 777-300ER passenger jets.
Also, an airline can get almost another 10 years of service from planes that are switched to the cargo side.