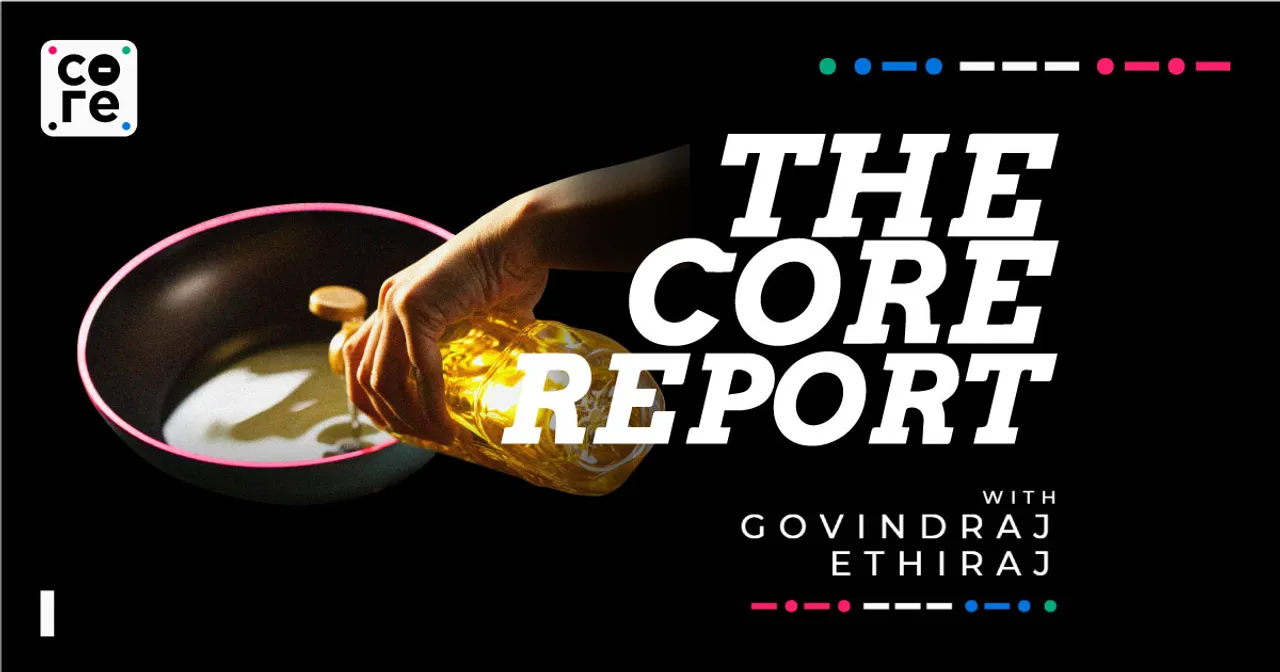 On today's episode, financial journalist Govindraj Ethiraj talks to Atul Chaturvedi, Chairman of the Asian Palm Oil Alliance as well as Chairman of Renuka Sugars as well as Sudhir Sethi Founder and Chairman of Chirate Ventures, one of the oldest venture firms in India (formerly IDG Ventures).

---
Our Top Reports For Today
[00:50]

 

Indian manufacturers brace for festival seasons
[05:08]

 

Edible oil imports cross 2022 full year levels as El Nino and other fears kick in.
[14:38]

 

India's new venture capital foray: upstream manufacturing.
[29:45]

 

Delhi starts shutting down for G20. No online delivery services except essentials.
---
NOTE: This transcript contains only the host's monologue and does not include any interviews or discussions that might be within the podcast. Please refer to the episode audio if you wish to quote the people interviewed. Email [email protected] for any queries.
---
Indian Companies Brace for Festival Season
India's festive season which started off with Onam in Kerala in the third week of August seems to be a turning point of sorts. At least in sentiment, if not in numbers.
Car sales are hitting new highs. Surging demand has taken overall passenger vehicles sales to 358,000 units for the month of August. 
Maruti Suzuki which saw strong domestic sales and international exports told CNBC-Tv18 yesterday that historically, the festive period contributes to approximately 23-26 percent of the annual sales. Which means the industry could cross the 1 million sales milestone during this season.
The company also said Onam car sales were strong.
Elsewhere, looking ahead, Walmart's India subsidiary Flipkart said it is looking to create more than 1 lakh seasonal job opportunities across its supply chain to cater to demand during the festive season.
The seasonal jobs, both direct and indirect, will include those for local kirana delivery partners and women.
And on consumer demand again, edible oil imports are shooting up, once again in anticipation of the festive season.
And finally, the Government of course, like all Governments before at this time, is fearful that any mistakes in managing demand and supply of commodities will kick off a firestorm, as it happened with tomatoes and then onions.
But all of this happening during the festival season will of course bring the heavens down.
India's food secretary Sanjeev Chopra told Bloomberg that thanks to ample grain reserves, plus an imminent new rice crop, the country's situation was not worrisome. Normal to above-normal rains are also forecast in many areas this month, offsetting the impact of disruptions including the driest August in more than a century.
India, the world's top rice shipper, has now restricted exports of every variety of the staple. It is also selling tomatoes, onions and grains from state reserves to improve local supplies, said Bloomberg.
"The government has taken many steps to ensure the food security of the country," Chopra said. "As of now, there are no proposals for any further export curbs," he said, adding restrictions had already served their purpose.
Local wheat supplies are also adequate to meet demand in the world's second-biggest producer and consumer, Chopra said, adding that the government hadn't taken any decision yet on whether to scrap import duties, a move that would make purchases from overseas more attractive.
In an interview To The Core Report two weeks ago, Pramod Kumar, head of the Roller Flour Millers Federation of India and also CEO of Sunil Agro Food  said India should allow imports of some wheat and allow export of packaged atta, or flour, particularly to countries with high NRI populations. 
"All options are open," Food secretary Chopra said. "We are monitoring the situation. In case we feel that there is any kind of requirement, then the government will exercise the option which is appropriate at that point in time."
Of course, the whole idea of El Nino is that it is tough to predict. And which is why edible oil imports are shooting up. Which we will come to momentarily.
Elsewhere in the stock markets..
Speaking of things going up, the BSE Sensex was up for the second day, thanks somewhat to reports of a possible pause in rate hikes in the United States. It closed 241 points higher at 65,628 on Monday.  The NSE Nifty was up 94 points at 19,529.
And among stocks going up, after much hammering in the first week, Jio Financial Services share prices rallied for the fifth consecutive session on Monday and has now gone above its listing price to ₹267.00 on the BSE.
Jio Financial has of course caused tremors in the non bank financial services space by the mere announcement of its arrival and very little or no business to speak of at this point.
The price band for the Jio Financial shares was increased to 20% from 5% earlier by the stock exchanges.
EDIBLE OIL IMPORTS ZOOM
Let's start with inflation. Food inflation is currently at close to 11% and most food items are in double digits including cereals which is rice and wheat at 13% and pulses also around 13%
The only thing keeping inflation down is edible oils whose prices have crashed in the last year with oils and fats as the category is called holding at a negative 16.80%.
So thank your stars and edible oil prices for overall food inflation staying low, or for that matter your monthly food bill.
But there is some disturbance in the force so to speak.
India's edible oil imports in August rose 5% to a record 1.85 million metric tons, Reuters is reporting.
The Core Report further learns that imports have been so high this year that we have already hit the full year edible oil import number of 2022 by this month, which is August of 2023 in itself.
Moreover, as we learn, India is consuming more edible oils than ever before and most of it is because we are in essence cooking more food.
India consumes around 24 million tonnes of edible oils in a year, 10 million tonnes are domestic and the balance 14 million tonnes are imported, at least last year. This year, imports are set to touch 16.5 million tonnes, so 26.5 to 27 million tonnes in all.
So why is India importing so much edible oil, is it a fear of something and how is that, if at all, linked to the broader food situation in the country, namely alongside high prices of pulses and cereals.
I spoke with Atul Chaturvedi, Chairman of the Asian Palm Oil Alliance as well as Chairman of Renuka Sugars and began by asking him why imports of edible oil were shooting up like this.
---
NEW VENTURE CAPITAL FLOWS
Indian venture capital is now zeroing in on what perhaps was always a relative strength in India, a capability to manufacture products from small to large sized factories in areas ranging from chemicals and apparel to spectacle lenses.
Moreover, India has untapped capacity, both in human resources and manufacturing capacity. And finally, there is increasing amounts of Indian capital to fund it all. 
The Indian venture ecosystem in the past has been majorly driven by western capital which usually determined the direction of its flow - and recklessness - in companies or startups which were either similar or direct replicas of successes elsewhere. Ecommerce, ridesharing and edtech are good examples, most of these ventures having come to grief for all concerned.
That is changing. To find out how and how much, I caught up with Sudhir Sethi of Chirate Ventures, one of the oldest venture firms in India and earlier known as IDG Ventures.
Chirate started in 2006 and today manages around $1.15 billion in assets across 6 funds.
Chiratae also claims a portfolio revenue of $3 billion today of which 25% comes from international markets in 19 countries. And more significantly, at least from my vantage point, its investee companies with 15 manufacturing units, including grabbing some of the potential shifts out of China, are a key focus. Chiratae has also announced its 5th Venture Tech Fund
I began by asking Sudhir Sethi, founder and chairman how his first investment was doing.
---
Speaking about investments
Speaking of investments in India, IKEA is also stepping on the gas. 
Remember, IKEA took several years to set up its first store - after announcing its India entry - and has then ramped up fast.
The new stores are in Delhi by the end of 2024 and Gurugaon by 2025.
The company's India CEO told wire services that it expects an "accelerated expansion" based on the learnings from the first phase. 
The first phase included Hyderabad, Mumbai, and Bengaluru cities and online presence in Ahmedabad, Vadodara, Surat, and Pune under the first phase.
Ikea's first It announced that it was looking at India in 2006 and held back for sometime because of clarity on regulations and then came in formally only in 2012. The first store was the 400,000 square feet Hyderabad store that opened in July 2018.
The second was in  Navi Mumbai in December 2020 and a smaller city centre one in Worli in Mumbai in August 2021.

CRUISE SHIPS
If you were planning to go on a cruise ship sometime in the next year, bear in mind that many cities and ports don't want you.
This is as much about cruise ships as how increasingly people can only take that much dislocation to their way of life, commerce or no commerce.
The Wall Street Journal says in U.S. port cities including Juneau, Alaska, and Bar Harbor, Maine, local governments are focusing on how to manage these travellers and the enormous ships they travel on. 
Residents in such cities as Amsterdam and Barcelona are protesting the effects of cruise pollution and proposing bans on big ships. The debate is also happening in places including Hawaii and Venice, where residents have complained about an overreliance on tourism, the WSJ says.
Starting next year, Juneau will allow only five large ships—meaning those carrying more than 950 passengers—in its port each day. Juneau began working on cruise-ship limits in 2019 and formalised an agreement with the cruise industry earlier this year.
So, while movement of goods across the world, particularly from China is and will slow down, the movement of people continues to rise. 
Turns out that similar barriers will kick in. 
Too much of anything is clearly not desirable.
---
And finally, speaking of not being allowed to go somewhere, all online delivery services, except medicines, will be barred in the New Delhi district during the G20 Summit, the Delhi Police said on Monday.
"Essential services such as postal and medical services, sample collections by path labs will be allowed throughout Delhi, " the police added.
This is in addition to several other restrictions, including holidays being declared between September 8 and 10. September 8 is of course Friday, making it a nice long weekend.
Except of course, getting out might be easier than getting in.
Among those not getting into Delhi or India for the G20 will be China's Xi Jinping and Russia's Vladimir Putin.
China will be represented by Premier Li Qiang, not President Xi Jinping, while Russia has confirmed President Vladimir Putin's absence, suggesting that neither nation is likely to join any consensus.
That means the two-day summit from September 9 will be dominated by the West and its allies, Reuters has said. The G20 leaders who will attend include U.S. President Joe Biden, German Chancellor Olaf Scholz, French President Emmanuel Macron, Saudi Arabia's Mohammed Bin Salman and Japan's Fumio Kishida.
That's it from me for today. Have a great day ahead and do visit www.thecore.in and sign up for our newsletters and go through our exclusive reporting and analysis.
Bye for now.