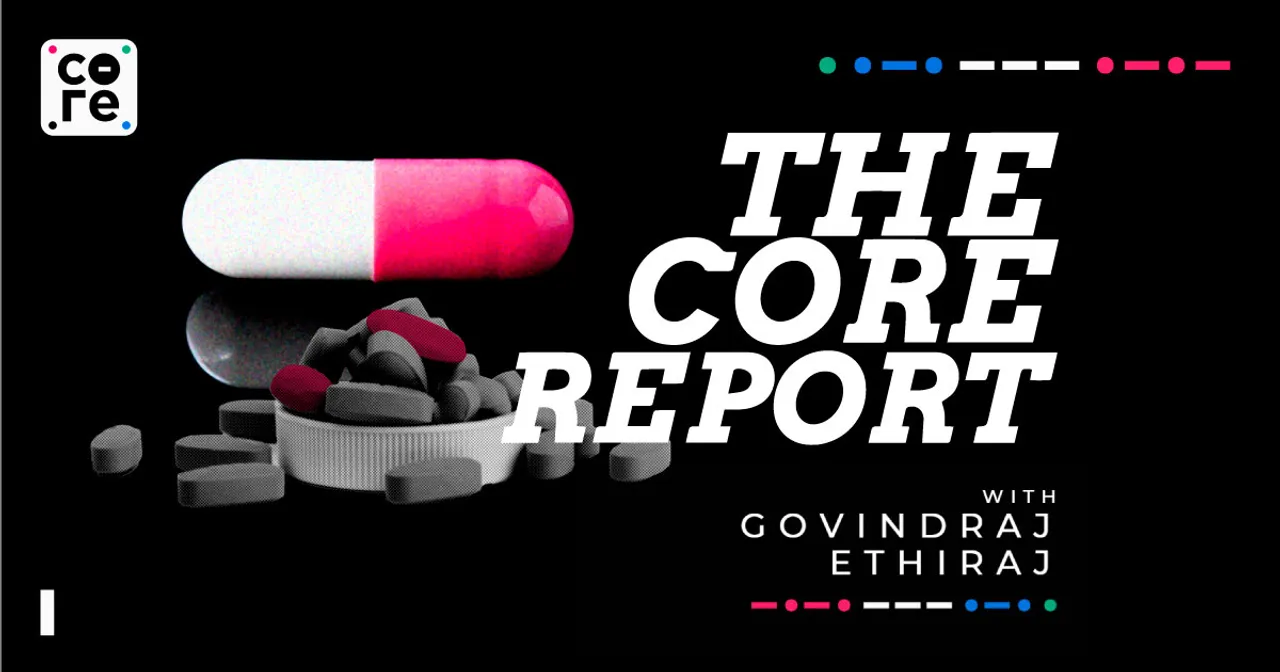 On today's episode, financial journalist Govindraj Ethiraj talks to Sheetal Sapale, vice president at integrated healthcare technology platform Pharmarack as well as Tushar Sachade, Partner at PricewaterhouseCoopers & Company
---
<00:50> Did you know which is India's top selling drug and more importantly for what? Get ready for a few surprises with Sheetal Sapale
<09:16> Tyre maker MRF stock touches 100,000 on the bourses and some history on MRF
<15:01> Rich Indians are still fleeing abroad but lesser this year
<18:08> Can India's angel tax be reinvented? with Tushar Sachade
---
TRANSCRIPT
NOTE: This transcript contains only the host's monologue and does not include any interviews or discussions that might be within the podcast. Please refer to the episode audio if you wish to quote the people interviewed. Email [email protected] for any queries.
Good morning, it's Wednesday the 14th of June and I'm Govindraj Ethiraj, coming to you from Mumbai India's financial capital.
Our Top Stories
1.Did you know which is India's top selling drug and more importantly for what ? Get ready for a few surprises
2. Tyre maker MRF stock touches 100,000 on the bourses, some history
3. Rich Indians are still fleeing abroad but lesser this year.
4. Can India's angel tax be reinvented ?
Which Are India's Top Drugs ?
A hypochondriac is someone who worries about illnesses and falling ill. In India, this has an added dimension because drugs and medicines are available more freely than many other countries.
Be that as it may, do you know which are the top conditions Indians are suffering from, going by the drugs they are consuming ? And which drugs those are ? Well, first the conditions. The pecking order is as follows:
Cardiac
Anti Infectives
Gastro intestinal
Anti diabetic
Vitamins/ Nutritional
Respiratory
You may also recall me talking about the 14 fixed drug combination or FDC drugs that were banned by the Government at the start of this month. These drugs are referred to as cocktails and are a combination of two different drugs like nimesulide and paracetamol or amoxicillin and bromhexine.
The value of the drugs that are being banned or the specific combination that was most affected was not clear at that point but is now, thanks to a report from Sheetal Sapale, vice president at integrated healthcare technology platform Pharmarack.
Sheetal also joined me to list the top drug brands in India at this point of time and which areas they belong to.
MRF hits 100,000
It was started by K M Mammen Mappillai as a toy balloon manufacturer in a shed in Chennai, then Madras in 1946 with an initial funding of Rs 14,000. Today, it's stock which has always ruled high by the way, touched 100,000 on the stock exchanges.
Things moved fast after Madras Rubber Factory or MRF as it ventured into tread rubber in 1952 and grabbed a market share of 50% by 1956. In 1961, MRF went public and established a technical collaboration with Mansfield Tire and Rubber Company from the US and made it's first tyre from the new pilot plant in Tiruvottiyur. The other players in India at the time were Dunlop and Goodyear.
In 1963, Jawaharlal Nehru inaugurated the foundation of the Rubber Research Centre in the same place. A year later, the MRF Muscleman - who we see even today - was born.
The 1980s were interesting, it launched the MRF Pace Foundation in 1988 with cricketer Dennis Lillee and a year later partnered with Hasbro, the toy giant to bring in Funskool toys. From toy balloons to toys. Funskool by the way has three large manufacturing plants including in Goa and has employs over a 1,000 people though the JV with Hasbro ended in 2014.
And then fighter jets. Around 10 years ago, it rolled out tyres for the Indian Air Force's Sukhoi-30 aircraft. Chairman K M Mammen then said the tyres were not as simple as they looked. "Though this tyre look black and round, there are several compounds in it and made for handling extreme conditions as a Sukhoi 30 lands at a speed of 420 km per hour..."
The man responsible for most of what the MRF brand today is Philip Eapen who retired as head of marketing almost 15 years ago. Founder K M Mammen Mapillai died in 2003
MRF is a family run business and very low profile, quite likely you will not know who the key executives are unless you follow the space closely. The extended family owns a bevy of businesses including the well known Malayalam Manorama media group.
Back to the MRF stock, it came close to the 100,000 mark in May as well but did not touch it.
The 100K tag still does not make MRF the most expensive stock as MRF's price to earning ratio is 55.2 on a trailing basis, the Economic Times pointed out.
Companies often split their stock, so a Rs 10 stock might become a Rs 1 stock and thus bring down the perceived cost of the stock. MRF has not done that. It's quite widely held too with public shareholders representing 72% of holding and the balance with the owners/promoters.
There is an interesting list of stocks quoting, above Rs 22,000 I could see, via the ET. I picked five apart from MRF. The interesting thing is none of them have anything to do with the other.
They are Honeywell Automation at Rs 41,002, Page Industries Rs 38,133, 3M at Rs 24,464, Shree Cement at Rs 25,709 and Nestle at Rs 22,290.
When I said they have nothing to do with each other, they belong to totally different industries..automation to cement and consumer products to under garments being Page Industries, or innerwear.
That perhaps is the embedded beauty in diversity of stocks in the Indian stock markets, the ones you can afford of course.
Speaking of tyres and MRF, turns out one reason why MRF's stock did well could be some general cheer in the automotive space, on whose back - is that correct - it's tyres ride on…or is it the other way round..?
Anyway, the Society of Indian Automobile Manufacturers or SIAM as it calls itself has said this was a blowout May for the industry with passenger vehicle sales at 334,247 units, up 13.5% compared to May 2022. Three wheelers went up even more sharply at 48,732, up 70%.
And the somewhat dormant two wheeler segment also saw strong sales, at 1.4 million in May 2023, up 17.4%.
Totally, some 1.8 million vehicles of all kinds were sold in May, compared to 1.5 million last year.
While this is all good news, the industry is still pining for the good old days as two wheeler sales are still below 2016-17 levels while three wheelers are below 2018-19 levels, Rajesh Menon, the director general of SIAM said in a statement.
While tyre and auto companies have had some cheer, entertainment conglomerate Essel Group did not.
It's chairman Subhash Chandra and Zee Entertainment Enterprises MD Punit Goenka moved a special tribunal or the securities appellate tribunal against a Securities & Exchange Board of India order the day before that barred them from holding key managerial positions in listed entities. Sebi has alleged the two have siphoned off funds from Zee Entertainment.
The news is somewhat significant since a merger between Zee Entertainment Sony Pictures Networks now known as Culver Max Entertainment is imminent and could face further delays.
Punit Goenka would have headed the merged entity.
The stock fell yesterday but recovered subsequently and somewhat to close around 193.
On the subject of market regulators, Bloomberg News is reporting that the Adani Group is in talks with lenders, including global banks, as it seeks to refinance up to $3.8 billion of a loan facility taken for its acquisition of Ambuja Cements Ltd. last year, said people familiar with the matter.
Indians Fleeing Abroad
Only 6,500 high network individuals are set to depart from India this year, according to the Henley Private Wealth Migration Report 2023.
Henley & Partners is a global firm in residence and citizenship by investment.
Why only 6,500. Because last year 7,500 high networth individuals took off, never to return, at least figuratively.
So, the 1,000 who may still be here either are not getting a visa in time or have genuinely decided to stay back and focus on…maybe a new manufacturing project that leans on 50% Government incentives.
Just kidding obviously.
The broader trend is that migration trends are going back to pre-pandemic levels, says Henley with Australia becoming the top spot for net millionaire arrivals like it did between 2015 and 2019.
The top five destinations for net inflows of high-net-worth individuals in 2023 are projected to be Australia, the UAE, Singapore, the USA, and Switzerland. On the flip side, the largest net outflows of millionaires are expected to come from China, India, the UK, Russia, and Brazil. Or if you remember an old acronym, BRIC, yes the BRIC countries are the biggest suppliers of outbound millionaires.
A few definitions meanwhile. India has 1,078 individuals worth more than $100 million or Rs 820 crore. It has roughly 344,600 individuals worth more than $1 million or Rs 8.2 crore and it has 123 billionaires or worth more than Rs 8,200 crore.
So why did these 6,500 leave ?
Dr Jurg Steffen, CEO of Henley Partners says political stability, low taxation and personal freedom have always been key metrics for millionaires when it comes to deciding where to live.
However, the priorities of affluent individuals are shifting, Dr Steffen says, to the intangible but equally vital elements that impact, their children's prospects, the quality of their lives and the legacies they leave.
They want their children to have access to top-tier academic institutions and also now, the option to move to cities that are more resilient to climate change, offer a good quality of life and to put down roots in countries where their capital can be protected for many generations to come.
From a wealth preservation point of view, Singapore, Switzerland and the UAE score high and also for quality of life. Not to forget friendly tax regimes.
Australia appears to score in general, beginning with beaches and scenery to wide open spaces to safety and security and a good health care system which is apparently simple to access if you are one of the many millionaires flocking there. At least in contrast to other options like the United States.
It does seem to boil down to wealth, health and education, in whichever order that suits your fancy.
And an old favourite topic
We have been referring to angel tax, or section 56(2)(viib) of the Income Tax Act, 1961, which was introduced in 2012 as a anti money laundering move and says that any premium received by a company (other than a public listed company) from a resident, exceeding the Fair Market Value (FMV) of the share issued is liable to tax in the hands of such company.
The fair market value is something that the tax department decides not, you. So effectively someone could invest in your company and get shares for them. But the tax department will decide it is income in the company's hands and tax you for it.
By the way, the word angel in angel tax is someone who invests into your business when no institutional or large investor is in sight. And could typically be what they call F&F or friends and family.
The law has since many modifications and layers and most so in the last 5 years, including the allowing of more methodologies for valuation.
In the latest move, the Finance Ministry last month exempted investors from 21 countries including the US, UK and France from the levy of angel tax for NRI investment in unlisted Indian startups…
But it excluded, Singapore, Netherlands and Mauritius, which could reflect almost 50% of investments in the startup space.
The Mint newspaper now reports that the Mauritius government plans to take up the issue of angel tax exemption with Indian authorities. The country's minister of financial services, Mahen Kumar Seeruttun intends to seek clarifications on its exclusion from the list of countries where investors are not required to pay taxes on their investments in Indian startups.
His point, according to Mint, is that Mauritius has complied with all the anti-money laundering provisions recommended by the Financial Action Task Force (FATF), and the country has also made it mandatory for all global financial services firms based out of Mauritius to meet "substance" requirement. The substance is a safeguard in anti-tax avoidance laws globally, which requires a firm that sets up shop in a country to possess minimum substance, such as having an office with some local employees.
To revisit the angel tax in a somewhat different way, I decided to pose the question, was there a way to somehow reinvent this legislation in a way that all sides, including of course the tax department is happy. I will be doing this with several other tax experts but kicked off the process by speaking with Tushar Sachade, Partner at PriceWaterHouse Cooper & Company
​​That's it from me this Wednesday morning, have a great day ahead and if you like this podcast, do share it with your friends and family !