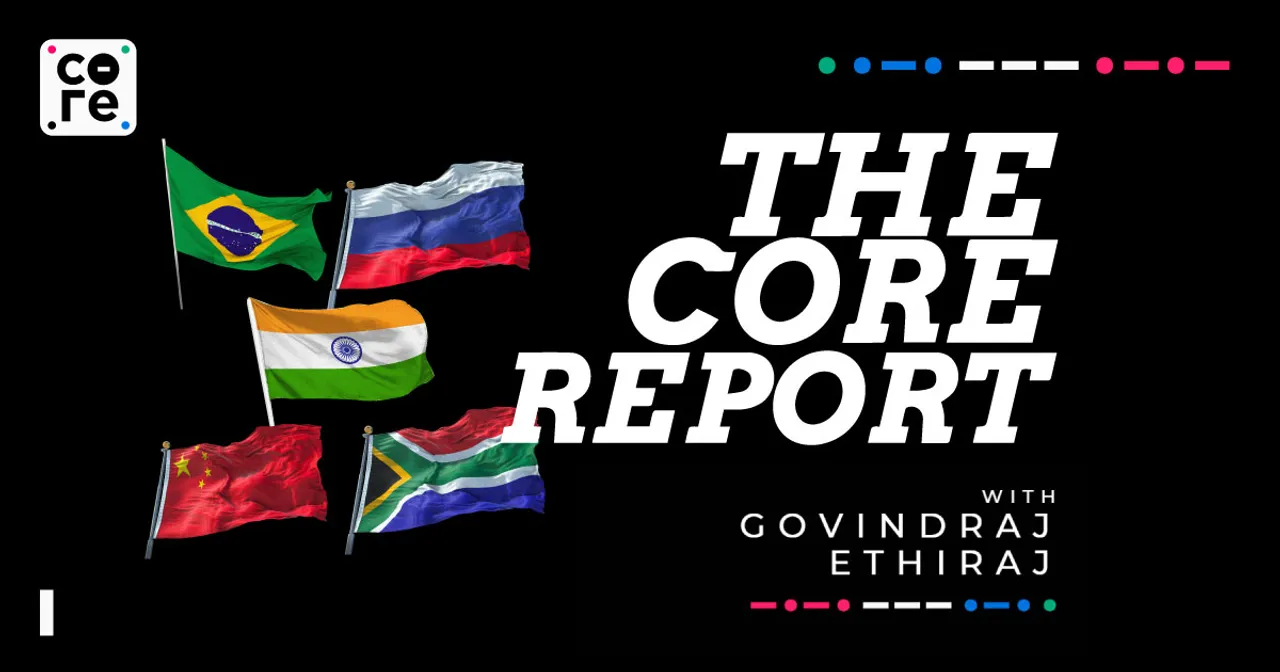 On today's episode, financial journalist Govindraj Ethiraj talks to Ashok K Bhattacharya, Editorial Director at the Business Standard and also columnist and author of a recent piece titled Nurturing Capex.

---
Our Top Reports For Today
<00:50>

 

BRICS is expanding, surprising and confounding sceptics.
<03:58>

 

FDI and FPI Is Slowing Down, What Options Does The Government have?

 

with Ashok K Bhattacharya
<11:10>

 

What does it take to run a well governed board,

 

with Keki Mistry
<13:03>

 

AI Rush resumes as Nvidia declares bumper revenue and profits.
<14:03> Airlines are reporting results beyond wildest expectations.
---
NOTE: This transcript contains only the host's monologue and does not include any interviews or discussions that might be within the podcast. Please refer to the episode audio if you wish to quote the people interviewed. Email [email protected] for any queries.
---
BRICS Has More Members
It's an acronym which has come in for some criticism if not ridicule but despite everything, is still expanding.  
Brazil, Russia, India, China and South Africa – countries announced on Thursday that the awaited expansion of the grouping will go ahead.
Iran, Saudi Arabia, Egypt, the UAE, Argentina and Ethiopia will join BRICS, said South African President Cyril Ramaphosa. The six countries are expected to become members starting 1 January, 2024. They are more interested in joining incidentally.
"Through this step, the faith of numerous nations in a multipolar world order will become stronger," said Prime Minister Narendra Modi, welcoming the expansion in the five-nation grouping.
​​BRICS is an acronym that started as BRIC in 2001 was  coined by Jim O'Neill  then with Goldman Sachs as a term for Brazil, China, India, and Russia. Later in 2010, South Africa was added to become BRICS.
Goldman Sachs claimed that the global economy will be dominated by the four BRIC economies by 2050. The main reason for such a claim was that China, India, Brazil, Russia, and South Africa were ranked among the world's fastest-growing and emerging market economies for years. 
Columnist T N Ninan said last week there was nothing like a good acronym to give currency to a dodgy idea, and so it has been with Brics. 
For about a decade, the idea held its own, but it has fallen apart after that. China (the sixth-largest economy in 2001) and India (not in the top 10 then) have done well; both are now in the top five. 
But Brazil and Russia have fallen short; Russia doesn't even feature now in the 10 largest economies. India in turn stands apart for having a significantly lower per capita income than the other three.
Interestingly but not surprisingly, China is jostling to build BRICS into a counter to G7 and even bringing in countries like Pakistan, something that India is resisting.
According to T N NInan, this idea has even less chance of succeeding than the G15 group of leading developing economies, which existed desultory for a quarter-century with a similar objective but became defunct a decade ago. 
For Brics to take its place is problematic also since neither China nor Russia is a developing economy in any meaningful sense. All they are is anti-West. In that sense, Brics is in danger of becoming a vehicle for a Chinese diplomatic thrust
Markets & Around
The Jio Financial stock got slammed for the fourth day. This is the point in the match where you wonder if a batsman can actually hit sixes of all 6 balls. 
And how long will Jio hit the 5% lower circuit (the maximum it is allowed to go) ? 
The sensex gyrated quite wildly dropping 732 points from the day's high to finally end with a loss of 181 points at 65,252. The NSE Nifty 50 too was up and down before settling 57 points lower at 19,387.
India's Big Capex Challenge
The Government Of India has ambitious growth and investment plans, much of it infrastructure led. These span across roads, railways, among others.
The interesting thing is that Government expenditure or plans for it is also triggering private capital expenditure proposals now at a 9-year high, as per Reserve Bank data. So the fact that Government and Private expenditure intentions are moving together is the good news.
The bad news is that foreign direct investment has slowed as we mentioned yesterday. It has declined 16% to $71 billion in the last year and has declined 22% in the first or last quarter of this financial year to $18 billion.
Foreign portfolio investment is falling as well, by 33% though portfolio investment as we have discussed before follows a slightly different path and could bounce back suddenly. Not so the case with direct investment which tends to be a little more linear in growth.
So where does this leave the larger growth question, particularly since investment at a certain clip is key to drive it.
To discuss this, I reached out to Ashok K Bhattacharya, Editorial Director at the Business Standard and also columnist and author of a recent piece titled Nurturing Capex, with foreign investments declining, it is necessary to maintain growth in government capital expenditure. I began by asking him how he was seeing flows.
---
Governance on Indian boards with Keki Mistry
Governance on boards, in this case Indian companies, is a sensitive subject. One view is that a few bad cases are getting blown out of proportion by us, that is those of us in the media. It could also be argued that the cases that are reported are getting proportionate mention. But then when the cases are high profile, they usually tend to cast aspersions on other companies as well.
I put the question of why  board governance in India was so weak to Keki Mistry, now independent director of HDFC Bank and until recently, VC and CEO of HDFC.
He lobbed it back to me saying the media was  blowing a few cases out of proportion.
I also asked about the very public spat between the Adani Group and Deloitte - no names were mentioned by the way - and asked what a company should do if it disagreed with the auditor's findings.
Mistry's answers follow but there are several other insights that you can hear tomorrow on the Core Report Weekend Edition and  what he expects from a board when he joins on. 
Mistry presently sits on the boards of HDFC Bank of course and then companies like TCS, Great Eastern Shipping (GreatShip ?) and Torrent.
---
NVIDIA Gains
On Wall Street, it is the top performing stock in the S&P 500 this year.
Chip maker Nvidia revenue in the lastest or second quarter more than doubled to $13.5 billion from a year ago. Net profit for the company's second quarter was over $6 billion, also surpassing forecasts.
Moreover, the company is saying that business is growing faster than expected, thanks to ever increasing demands of computing needs of artificial intelligence.
Nvidia chips power several popular AI tools, including OpenAI's ChatGPT and similar language-generation systems made by Google, Microsoft and others. Nvidia has invested in making chips and software for AI for more than a decade and has no competitors who can yet match it, says the WSJ.
"The race is on to adopt generative AI," NVIDIA CEO Jensen Huang said, describing a new computing era where companies are transitioning from general-purpose computing to digital infrastructure geared for AI.
Bumper Profits For Airlines.
On aviation…whichever way you look at it, this has been a bumper year or two for the airline industry. 
This may not be so apparent in India where one airline Indigo is evidently walking away with most of the industries profits, but it is not the case elsewhere.
Qantas, the Australian airline reported record earnings despite billions of dollars on Boeing Co. and Airbus SE jets, returning $324 million to shareholders and giving $320 worth of travel credits to its entire rank-and-file workforce, Bloomberg is reporting.
Qantas turned in profits of $2.47 billion for 2022-23 after losses of $1.86 billion the previous year.
Finally, Qantas donated more than 1 billion loyalty points to frequent flyers. The gesture was meant, the airline said, as a 'thank you'.
This obviously comes after the peak of the pandemic in 2020 which pushed Qantas, as it did many other airlines, to near bankruptcy. 
The post pandemic demand has been so strong and so long that prices are staying sky high, something anyone travelling west from India would know as prices stay high for the third year in a row.
Qantas — and many peers — are pricing tickets at  levels unthinkable before the pandemic. Flying Sydney-New York return with Qantas in business class, for example, can cost more than $12,000, says Bloomberg.
Among other hospitality news..Reliance has announced that it will co-manage three hospitality projects with The Oberoi Group of Hotels, in which by the way  it already owns a roughly 18% stake.
The three projects include a premium property Anant Vilas in Mumbai's BKC, Stoke Park in the UK and an upcoming project in Gujarat.
In the first two cases, it looks like Oberoi Group is being handed over and taking over existing properties of Reliance and rolling them out as branded hotels. Whether they were both originally planned to be hotels in this form is not clear, at least the property in the UK.
Oberoi already has a Trident brand property in BKC, which is Mumbai's new business district while Anant Vilas would be a premium property, like it's Vilas properties in Udaipur, Jaipur and so on. The difference of course being here is of course that this is in the middle of the city and not a resort like the others.
Reliance says Stoke Park owns sports and leisure facilities in Stoke Poges, Buckinghamshire. The facilities include a hotel, sports facilities and one of the highest rated golf courses in Europe. The plans that will include a comprehensive upgrade of Stoke Park, including golf and other sports facilities, are under preparation
Remote Workers Are Disconnected With Corporate Mission.
People who work from home are feeling more disconnected from the larger mission of their employers, the WSJ is reporting.
A new Gallup survey says the share of remote workers who said they felt a connection to the purpose of their organisations fell to 28% from 32% in 2022—the lowest level since before the pandemic. 
The findings flow from a survey this spring and summer of nearly 9,000 U.S. workers whose jobs can be done remotely.
In short, more remote workers appear to be approaching their jobs with "a gig-worker mentality," fulfilling the basic responsibilities of the role rather than anticipating the broader needs of their team or company, said Jim Harter, chief workplace scientist at Gallup, which has tracked worker engagement since 2000. 
Most professional roles, he points out, tacitly include expectations that go beyond the actual work, such as mentoring others or spurring innovation.
Something I have wondered about.
Despite the lack of connection, the Gallup survey showed 38% of people who work remotely full- or part-time are engaged, or enthused about their work, compared with 34% of in-office workers. 
The findings can be confusing.
Nearly 30% of U.S. workers in remote-capable jobs work exclusively at home, according to Gallup, a share that hasn't wavered much in the past year. One reason they score higher in Gallup's engagement metrics than their office peers is that they say they have a clear idea of what's expected of them. 
---

And before I go, Tennis and IT news
Tennis legend Rafael Nadal is Infosys' new brand ambassador as part of a three-year partnership, the Bengaluru-based IT major said on August 24.
Nadal will be the ambassador for the brand and Infosys' Digital Innovation, the company said.
"I love the way Infosys has brought its digital expertise across industries to the global tennis ecosystem. It has transformed the tennis experience for a billion global fans and truly empowered all players on the tour with analytics that they could have only dreamt of a few years ago," Nadal said in a statement.
As part of the collaboration, Infosys and Nadal's coaching team are developing an artificial intelligence (AI)-powered match analysis tool.
A personalised tool, it will be available in real-time to Nadal's coaching team to simultaneously track insights from his live matches when he is back on tour along with data from his earlier matches, the company said.
Infosys has been a digital innovation partner for the ATP Tour, Roland-Garros, Australian Open, and The International Tennis Hall of Fame, where it leverages AI, cloud, data analytics and digital experiences. Infosys has done video and stats analysis platforms for players and coaches as well.
That's it from me, have a great weekend and don't forget to catch the interview with Keki Mistry, Independent Director on HDFC Bank, on audio that is Spotify and Apple as well as video on YouTube.