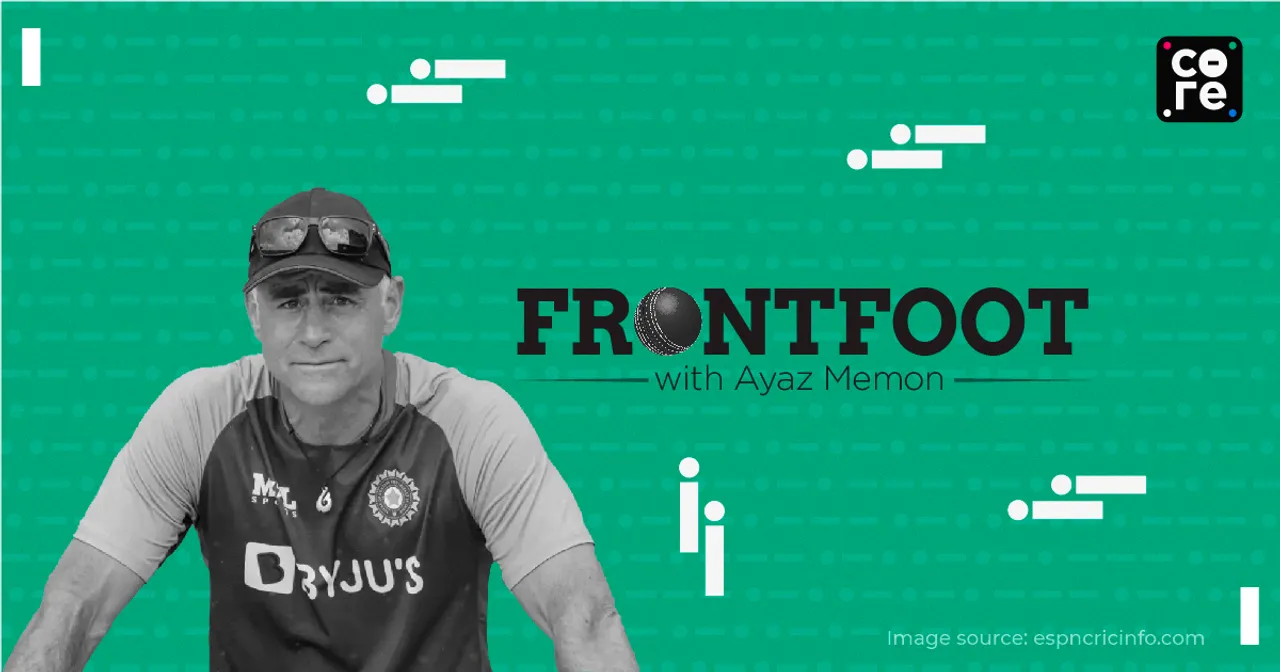 If there is one moment that will remain etched in the memories of all Indian cricket lovers, it is the 2011 Cricket World Cup final when Dhoni "finished it off in style" and India lifted the "World Cup after 28 years". The world cup took place on India's home turf, making the victory all the more special. 
In the last episode we discussed how the Ganguly-Chapell dispute made things difficult for the Indian team in the 2007 World Cup. However, all that changed with the arrival of Gary Kirsten as the Indian coach in 2008. Kristen stepped in to prepare India for the next, the 2011 World Cup. It was indeed a daunting task, but Kristen's emphasis on prioritizing mental well being of the players helped immensely. 
In this episode of Frontfoot, The Core's Joshua Thomas spoke to renowned sports journalist Ayaz Memon about the 2011 World Cup winning team, its formation, and the indictment of Paddy Upton as a mental conditioner.
"Gary Kirsten was a strong believer in mental conditioning for success in sports, for succeeding in sports. So he got Paddy Upton. It is almost like having a sports psychologist attached to the team," Memon said. 
Recalling how Rohit Sharma missed out on playing the world cup, Memon said, "Rohit had been an U-19 star player and he had done extremely well in domestic cricket and also in the IPL. But it came to a situation where they (the selectors) had to choose between him and Yuvraj Singh, believe it or not, for a place in the middle order. But Yuvraj Singh got the nod only because he had some credentials as a bowler too."
Here are the excerpts from the interview:
The 2011 World Cup team had some of the biggest hitters India has ever seen in a squad. So tell us about how that team was picked?
This was a very good team because it had a fine blend of youth and experience. Experience in the form of players like Sachin Tendulkar who was by then the Bhishma Pitamaha of batsmanship or of the Indian team. He was in his late 30s, by then 38, pushing that and his last World Cup that he was to play. There was Virender Sehwag who was there. There was Harbhajan Singh, Zaheer Khan, Yuvraj Singh. And there was also somebody like Virat Kohli. There was Gautam Gambhir. 

Good balance of youth and experience, a good strong top batting order, some all rounders, good mix of pace bowlers as well as spinners. So all in all, a very well rounded team. Having said that, and of course the advantage, so to speak, of playing in home conditions, pitches where they have grown up, they have been reared, they have been nurtured–so that is an advantage. 
Having said that, there was also the huge burden—and do not discount this—of the pressure of expectation. When you are the Indian team playing in India, there is humongous pressure on the players to deliver, the pressure — from the fans, from the administrators, from themselves — to do well. So while everything might seem that was loaded in favour of India doing well, there was also this factor of if you do not do well, then there are very strong repercussions. So it was a challenging task for India. The fact of playing at home did not diminish the challenge of the task or the onus of trying to win a World Cup, beating so many teams.

Among the young members of the team you mentioned Virat Kohli. What was his status as a player at the time? Because he was not the legend that we know now. And how did he measure up to Tendulkar? Was he on par with him? 
He was certainly not on par with Tendulkar. Tendulkar, though he was in the sunset of his career, he was still amongst the most formidable players in the world and certainly when batting is concerned. Virat Kohli was Gen Next. He was what, maybe in his early 20s. He had shown sparks of becoming a terrific player when he played for and captained the India under 19 team in 2008 and India won that U-19 World Cup. So he was immediately drafted into the senior Indian team, so to speak. But he was still a rookie. He was a newbie in this collection of players or the squad that India had. 
The big guns who were there included Sachin, Sehwag, there was Gautam Gambir, who had been playing for quite a number of years and also Yuvraj Singh. Of course, there was MS Dhoni himself, as a wicketkeeper batsman as well as a captain. Because in 2007, India had won the World Cup under him – the T20 World Cup. And then there were players like Harbhajan Singh and Zaheer Khan who had been playing for, well 12-13 years. So they were veterans. There was Sehwag, who was a veteran. And Sachin Tendulkar playing his 6th World Cup and still chasing that dream of his to win the World Cup. So imagine the pressure on Tendulkar himself trying to win a World Cup and he knows this is his last World Cup.  He made his World Cup debut in 1992.

He was itching for a victory, basically.
He was not itching. He was desperate to win, to win a title, have something to... Look, when you have Tendulkar in your team and an Indian team which is very strong in 2003, in 2007, in 1999, but could not win the World Cup, and then he knows this is his last opportunity. And I think the team also sensed that, that this is Sachin's last World Cup. So a lot of that spilled over, that sentiment spilled over when India did win the final. But that is a story for another day. I am saying that when the squad was chosen, preparations were happening, there was so much hope and expectation vested in the Indian team. And that has to be juxtaposed with the fact that there was so much pressure on the Indian team because they were playing at home. 
How did Dhoni get the captaincy because of the T20? 

Well, he was a captain even for the T20 World Cup in 2007. That came his way because a lot of things happened in 2007, including India losing the 2007, 50-over World Cup, where Rahul Dravid was the captain. So after that defeat and after the tour of England where India won a test series, Dravid gave up the captaincy. He said he wanted to focus on his batting and not be the captain anymore. The pressure was too much for him. He did not want that. So they were looking for somebody to captain the team. And their first choice was actually Sachin Tendulkar, who had been captain earlier, but he did not want the captaincy. They were looking for somebody younger. The 2007 inaugural T20 World Cup was on the horizon. The biggest names in Indian cricket were not going for that World Cup for reasons of workload management or whatever, or some niggles or some injuries. So there was no Tendulkar, no Dravid, no Ganguly, no Lakshman going for that tournament, no Zaheer Khan. So they had a fairly young team which had emerged and they needed somebody to pilot that young team. And the choice fell on Dhoni. 

Dhoni had been tipped as the future captain and I think what clinched the vote in his favour or the nod of the selectors was the good words put in by players like Sachin Tendulkar and Rahul Dravid themselves. Though they were not going to play the tournament, they thought that Dhoni might be a good man to lead the team. And as it happened, India was actually the last team to agree to play that tournament. And in that sense, the formation of the team came rather belatedly and hastily. And then Dhoni put in charge. And nobody gave a hope in hell for India to win that tournament because in many ways there were stronger teams, certainly on paper, many, much stronger teams than India. There was the West Indies, there was Australia, there was South Africa, the home team. There was England. But India won that tournament.

And I think what really kind of created that fervour is that India beat Pakistan twice in that tournament. In the first match in a super over, which captured the imagination of the entire cricket world. And then again in the final in the last over. So two really melodramatic wins. And then Dhoni being the central figure in this because, as a captain–we have talked about this for other matches and other contexts–how strong and how important a role the captain plays in cricket because he is an interventionist. He decides what is going to happen, who is going to bowl, which over when, what kind of field will be set, what kind of batting order you will kind of put up and so on. So Dhoni, because of that win, became overnight, a sensation in the Indian cricket firmament as a captain. And then, of course, he captained the Chennai Super Kings. And though they did not win in the inaugural year, they reached the final and then they won the tournament in the third year after the first two years, once won by Rajasthan, the other one won by Deccan Chargers or the Hyderabad team, and then of course, Chennai Super Kings winning.
 
So his captaincy became the focus of attention and come 2011, by that time he was widely acknowledged as the most astute captain and thoda hatke. His thought process was a little offbeat, little different from how other captains or conventionally captains thought. So that also became a very strong factor in the Dhoni mystique as to what he is, how his mind works and so on.

Just on a side note, it is quite interesting how like in leadership positions, you would always expect experience to kind of trump, let us say, a younger person in a leadership position, let's say.
But in all it may not necessarily hold true. In 1983, the captain was Kapil Dev, who was 24 and there were far more senior players than him in the team. In 2007, when Dhoni was the captain, he was still not the most experienced guy in that team, but he won. So sometimes having a fresh mind also helps.
How did they go about selecting the 2011 team? 
So this is interesting because when you are playing at home, the thought process in the selection also undergoes a change, vis a vis if you are playing overseas because the Indian players are more familiar with the conditions and therefore you want to choose players who will exploit the conditions that they know so well to the fullest. 

And then of course, there are always dilemmas between when you are selecting a squad of 15 or 16 or 17, whatever the number, there are multiple choices available at times. And then you have to pick and choose between maybe two or three players when you have to choose one and how do you go about doing it. So for instance, in this tournament, one of the guys who missed out playing the World Cup was Rohit Sharma. 

Oh, really? In 2011?

Yes. Rohit had also been an U-19 star player and he had done extremely well in domestic cricket and also in the IPL. But it came to a situation where they had to choose between him and Yuvraj Singh, believe it or not, for a place in the middle order. But Yuvraj Singh got the nod only because he had some credentials also as a bowler. So he became an all rounder. And I think the choice then, by that time Kohli was part of the squad or had become part of the Indian team, he had nudged ahead of Rohit, including selection for the Indian team is concerned. So the choice was between Yuvraj Singh, who was perhaps affected a little by injury and stuff. He was still recovering and he played. And as it turned out, it turned out to be a masterstroke because Yuvraj Singh went on to become the player of the tournament.

Wow. That's so crazy. So, going into the World Cup, the prep for the Indian team was a little different. I was reading how the coach, Gary Kirsten, had got Paddy Upton as a kind of mental health sort of coach or some kind….

He's a mental conditioner.


Mental conditioner…. that was it. So what was his role exactly in the work? In the prep?

So there are two parts to it. One is Gary Kirsten as the coach. In 2007, when India won the T20 World Cup, they were looking for a coach because Greg Chappell, the Australian coach, had fallen foul of the establishment and he had to leave. And then India was looking for a new coach. Gary Kirsten joined the team in 2008, early 2008. And when he joined the team, Dhoni was, of course, captaining the Indian team, the Indian whiteball team then in Australia. And he said, in as many words to the team… At least to the key players like Dhoni, Gambhir and Sehwag who were expected to play the 2011 World Cup, that your World Cup preparation starts now. That means three years in advance.
So we have to start believing that we can win the World Cup and start moving in that direction. Moving in that direction also meant dispensing with players who may be older and may not last that distance, or may not be suited to the demands of a faster paced… they may be better suited to test cricket, but not to limited overs cricket and so on. That happened. 
And then Gary Kirsten was a strong believer in mental conditioning for success in sports, for succeeding in sports. So he got Paddy Upton. It is almost like having a sports psychologist attached to the team. And I think the need at that time was profound, though you might say that why is it that when you won the T20 World Cup and you've done well in Australia in limited overs cricket, why do you need a mental conditioning guy? But you need them because what happens is, in a World Cup, the whole dynamics change. And where Indian cricket is concerned, there was so much more demand made on Indian players in terms of coping with pressure. It is not just about going. How you cope with pressure will also be reflected in how you perform on the field. So they needed somebody, a person trained to deliver this kind of messaging to the players and is allowing players to be comfortable in their own skins, in a very— how do I put it– very tight and very tense atmosphere. 

But also specific to a sports scenario, because sports mental health…

Certainly. For cricketers in India are like footballers in Brazil or Argentina or know that kind of pressure and expectation. So, for instance, if India is playing Pakistan anywhere, not just in the World Cup…I had a chat with Kapil Dev some time back and he said, I asked him, what does India-Pakistan cricket mean when you are playing? He says, Bloody hell. You wake up in the morning, you order a cup of tea,  the guy who delivers the tea says: Boss,jo bhi karna hai karo.  Don't lose to Pakistan.
Go out to breakfast and you're at the reception, hotel reception, leaving for the ground, about to board the bus, and he says: whatever happens, boss, today you have to win. The driver of the bus will tell you: Pakistan hai, you cannot….
So, what I'm saying is, then, it is like a shadow which follows you everywhere. And this is about Pakistan. It can be about Australia or whatever else. So that's the kind of pressure the Indian team has to handle. So you need a certain kind of conditioning which is needed to separate yourself from that pressure when you are out in the middle. There is good pressure and there's bad pressure, isn't it? We know in every aspect in life, there is good pressure, which drives you to do great things. There's bad pressure which can bog you down. So you need to kind of separate it from that bad pressure and be swirling around with good pressure so that you deliver your best. 

And that was Paddy Upton's role?
I mean, that was Paddy Upton's role. That was his job profile with the team. And when you look back, you have to say he succeeded because India went on to win the World Cup.
ALSO READ: What Is Driving ONDC's Rise In The Mobility Sector?