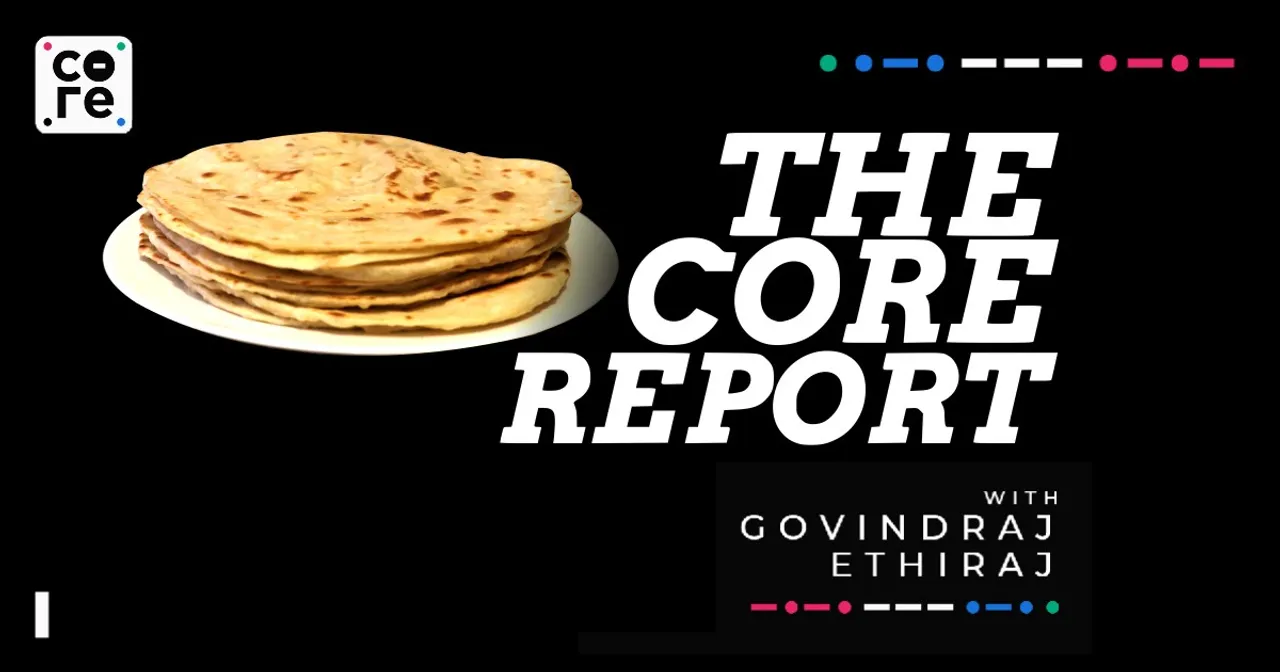 On today's episode, financial journalist Govindraj Ethiraj talks to Pramod Kumar S, the President of the Roller Flour Millers Federation of India and also director of the Bangalore based Sunil Agro Foods as well as Amit Tandon, founder & MD of Institutional Investor Advisory Services.

---
Our Top Reports For Today
<01:26> Companies feel pressure as regulators force them to disclose more information.
<12:39> Flour milling industry says allow packaged atta exports for NRIs as chapatis can't be made with other wheat.
<18:13> Disney goes the Jio way, will offer free streaming on mobile for the upcoming World Cup Cricket. 
<21:52> LPG Cylinders to get Rs 200 subsidy.
<22:41> Uber says drivers have earnt Rs 50,000 crore on its platform in 10 years
---
NOTE: This transcript contains only the host's monologue and does not include any interviews or discussions that might be within the podcast. Please refer to the episode audio if you wish to quote the people interviewed. Email [email protected] for any queries.
---
Companies Are Feeling The Pressure As Disclosures Increase
The pressure to disclose is increasing.
A recent circular from the Securities and Exchange Board of India (Sebi) hopes to provide more  transparency and improve  the timelines of corporate disclosures. 
Disclosure requirements broadly under Regulation 30A which came into effect from the 14th of July  have now been extended to encompass public shareholder agreements, including family settlements "to the extent that (these) impact management and control of the listed entity". 
Dissenting voices are already emerging.
In an article titled shooting sparrows with cannons a few weeks ago, lawyer Cyril Shroff argued in Business Standard that Sebi's amendments aimed at strengthening corporate governance fail to reconcile the virtues of public disclosure and protection of private domains.
Like a good lawyer itching for a fight, Shroff went further.
He says or should I say thunders, transparency is not an untrammelled obligation; it needs to be tempered with reasonable restrictions and safeguards. Broad strokes instead of calibrated refinements of materiality, timing and exceptions could lead Regulation 30A to the brink of a constitutional challenge, pitted against the fundamental right to privacy under Articles 14, 19 and 21 of the Indian Constitution. It may be tested for both, reasonableness and proportionality.
Amit Tandon, founder & MD of Institutional Investor Advisory Services, a leading investor advisory firm said, also in a Business Standard article, that companies have begun to disclose family settlements and yet within a few weeks of the notification, we are seeing divergence in how companies are disclosing these. 
To understand where this was heading and if companies would eventually comply or push back, I reached out to Tandon and began by asking him what he was taking away right now.
---
Meanwhile, in the stock markets, the Reliance Industries stock was down Rs 21.75 to Rs 2,422. Only saying this because we spent a good part of yesterday listening to and reporting on the company's 46th AGM  and its plans and announcements.
The BSE Sensex ended flat on Tuesday at 65,076 levels, up 79 points. The Nifty50 closed  at 19,343, up 37 points. Jio Financial, the stock that was hammered consistently last week, was up around Rs 10 to Rs 221 or 5%. At this price, it is still below its listing price of a little under Rs 250 last week.
In some business news
Maruti Suzuki India said it will double its production capacity to 4 million cars in the next 8 years by investing around Rs 45,000 crore,  company Chairman RC Bhargava said yesterday.
Maruti had taken 40 years to reach 2 million cars but will add another 2 million in just 8 years, he said.
He also said Maruti will also deal with a lot of technologies, including electric vehicles, hybrids, CNG, ethanol-blended and use of compressed biogas going forward.
Maruti has been somewhat neutral on electric and made a case for approaching it in a more calibrated way.
Mr Bhragava said  it is difficult to predict what will happen in the next eight to ten years in terms of new technologies.
Maruti began life as a Government owned company. 
Export Atta To Diaspora
India's diaspora, with whom we have strong emotional and other ties to, is having a twin problem. They are finding it difficult to source rice and wheat, rice to make rice and wheat to make chapati. The solution, coming up in a moment.
Exports of wheat  were banned last year in May after the Russia-Ukraine war started at the end of February 2022.
On rice, last year, India banned exports of broken rice. Last month, India banned exports of non-basmati white rice. And last week, a 20 per cent export duty was slapped, yes that word again, on par-boiled non-basmati rice. And now this.
Sanjiv Puri, chairman of consumer products and tobacco company ITC, told Bloomberg that India's decision to ban exports of wheat and rice should be short-lived once food supply stabilises in the country.
The company told analysts its  agriculture business revenue declined 25% in the April-June quarter, thanks to a ban on export of wheat ... .and by extension wheat products like flour or atta.
To understand where we were and to recap India's wheat position, I spoke with Pramod Kumar S, the President of the Roller Flour Millers Federation of India and also director of the Bangalore based Sunil Agro Foods.
I began by asking him to take us through the stock, price and supply position.
---
DISNEY AND FREE CRICKET
Cricket and entertainment news.
Reliance's Jio Cinema seems to have set the precedent after it launched free to watch on its app of the India Premier League or IPL cricket season which ran for 2 months after starting at the end of March. 
Disney is now following suit by acknowledging it misjudged Indians' willingness to pay - people signed up for Hotstar when it had IPL, but didn't stick around to buy more premium plans to watch other content, two Disney officials told news agency Reuters.
"Free cricket is the only bullet left."
Making cricket free on mobile will help "450 million-plus customers to tune in" over 48 days of the 50-over World Cup that is being hosted by India, compared to 300 million in the last World Cup in 2019, stated a "Festival of Cricket 2023" Disney presentation created for advertisers and seen by Reuters.
The Core Report has independently confirmed the existence of the presentation seen by  Reuters news.
Disney Hotstar is now looking at a new record of 50 million concurrent viewership during the World Cup, double the 2019 number, the document added. That will also be 56% higher than what JioCinema clocked during this year's IPL finals in May.
So to recap, Disney Hotstar will stream live matches of the Asia Cup starting tomorrow as well as the much awaited World Cup in October-November all for free. 
Disney has rights to show the International Cricket Council's tournaments in India from 2024 to 2027 which it paid $3 billion. Last year, it licensed the TV broadcast rights to Zee Entertainment for around $1.5 billion but retains digital streaming rights, according to Reuters. 
A Disney official also said they would target advertisers with budgets as low as 200,000 rupees . Another new initiative would be interactive ads connecting watchers to a brand's WhatsApp chat to enable purchases of the products.
India's Pollution Levels Are Staying
Since 2013, India has been responsible for about 59 percent of the increase in global air pollution, the University of Chicago's Energy Policy Institute's (EPIC) Air Quality Life Index Annual Update 2023 has said.
The report highlighted that the South Asian region, which accounts for almost a quarter of the global population (22.9 percent), is grappling with the dire consequences of air pollution. 
Bangladesh, India, Nepal, and Pakistan, all part of this region, face an unsettling reality—the AQLI data indicates that their citizens can expect a decline of approximately 5 years in their life expectancy if pollution levels persist unchecked.
India's Northern Plains stand out as the epicentre of pollution in the country, housing over half a billion individuals or close to 40% of India's population.
Residents of this region face the prospect of losing about 8 years of their life expectancy if pollution remains unchecked. 
Speaking of pollution, an important constituent of it is indoor air pollution
World Health Organization (WHO) figures as of November 2022 say some 2.4 billion people worldwide, which is around one-third of the global population, rely on open fires or inefficient stoves fuelled by kerosene, biomass (such as wood, animal dung, and crop waste), and coal for cooking. 
This leads to indoor air pollution contributing to some 3.2 million deaths in 2020 and 237,000 deaths of children under the age of 5.
More LPG cylinders could help in general
Back home, just as the festival season is getting ready to kick off, the Government has announced a reduction in price of LPG or cooking gas cylinders by Rs 200 for all consumers.
For the beneficiaries of the Pradhan Mantri Ujjwala Yojana (PMUY), this would be in addition to the Rs 200 subsidy already received, making it a Rs 400 subsidiary.
The Government will provide an additional 7.5 million Ujjwala connections, taking total PMUY beneficiaries to around 103 million. 
"The cost of this additional subsidy of Rs 200 per LPG cylinder is expected to be Rs 7,680 crore for 2023-24," Government officials said.
Before I go, Uber has put out some interesting numbers on completing 10 years in India.
Uber says drivers have earned over Rs 50,000 Crores through its platform with some 3 million drivers doing around 3 billion or 300 crore trips in the last decade.
The distance traversed by Uber drivers in India is equivalent to going from the earth to the moon 86,000 times, says the company.
Uber now operates in over 125 cities across India, making it possible for millions of people to book a ride within minutes and helping over 800,000 drivers earn a sustainable income.
---

That's it for me for today. Have a great day ahead, look forward to hearing from you. Find our newsletter and insights on www.thecore.in as well as links to this podcast.
Bye for now.