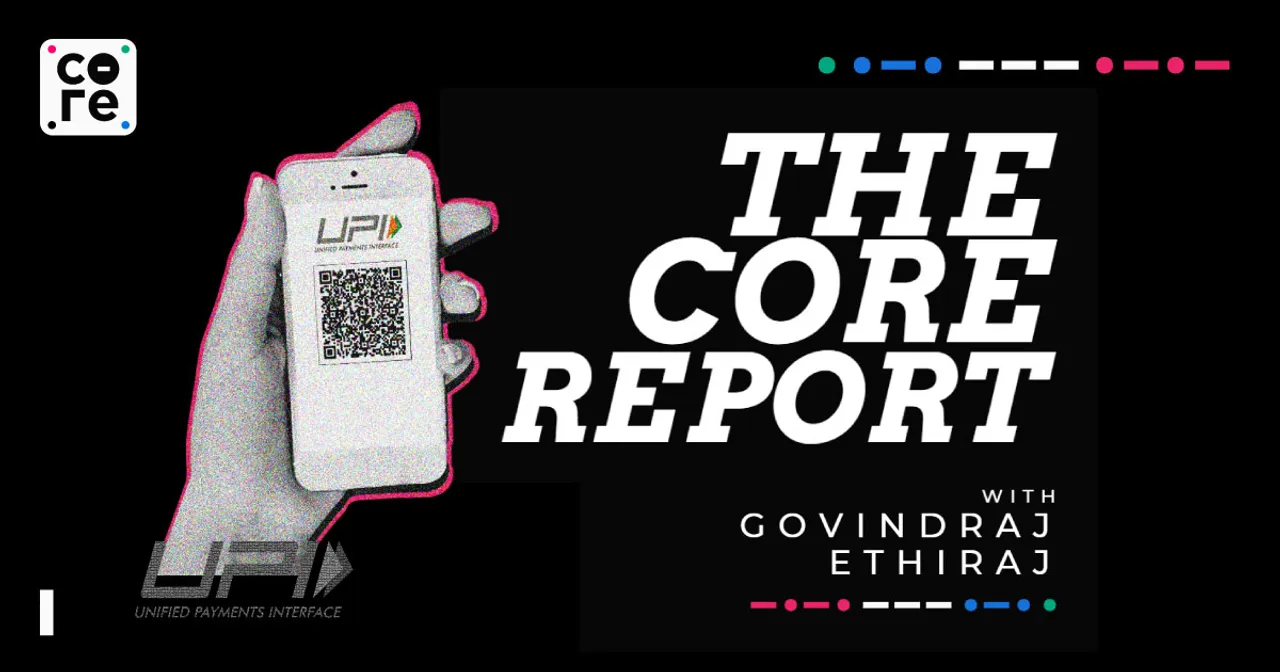 On today's episode, financial journalist Govindraj Ethiraj takes you through the stories of the day and talks UPI transcations with Mihir Gandhi, Partner and Payments Transformation Leader at PWC India, and author of the 3rd edition of The Indian Payments Handbook 2022-27.
---
<01:21> Former RBI Governor Raghuram Rajan says the Government's manufacturing incentive scheme is a failure.
<08:22> India set to see a billion UPI transactions a day in 3 years' time
<16:50> Valuations of tech stocks continue to fall, but that is the least of the problems.
<19:48> Hmm..the founder of Theranos was set to start a 11 year jail term last night.
---
TRANSCRIPT
NOTE: This transcript contains only the host's monologue and does not include any interviews or discussions that might be within the podcast. Please refer to the episode audio if you wish to quote the people interviewed. Email [email protected] for any queries.
Good morning, it's Wednesday the 31st of May and I'm Govindraj Ethiraj with The Core Report, coming to you from Mumbai, India's financial capital and most rocking city in the world.
Here are our two quick reports and theme, the 'Hmm' section and 'Conversation of the Day' where we examine the 1 billion transaction opportunity via UPI.
Our reports today
Former RBI Governor Raghuram Rajan says the government's manufacturing incentive scheme is a failure.
India is set to see a billion UPI transactions a day in three years' time. What does it mean?
Valuations of tech stocks continue to fall, but that is the least of the problems.
Hmm... the founder of Theranos was set to start a 11-year jail term last night.
Before I start off, a quick thank you to so many of you who have sent me invaluable feedback on The Core Report directly and via some friends with both compliments and some critique. The comments range from the selection of content, the ask for more interviews and my delivery of all of it. Thank you and I can assure you I am incorporating all of them as we go along.
Raghuram Rajan Says Mobiles Assembling
India's mobile phone exports have zoomed but former Reserve Bank of India governor Raghuram Rajan said the number masks the whole picture.
He argued in a detailed LinkedIn post that the rise in exports has been accompanied by a rise in imports of inputs that go into making these devices.
Over the longer term, we have to be manufacturing components as well, he says. Which of course is a bit of a holy grail right now, towards which everyone seems to be heading.
Rajan argued that if you correct for imports, it is very hard to maintain that net exports have gone up.
The net export figure of $9.8 billion coincided with higher imports of inputs including semiconductors, printed circuit boards, displays, cameras and batteries.
The combined inbound shipments of these inputs reached $32 billion in 2022-23, making India a net importer of components worth $21.3 billion after adjusting for assembled phone exports worth $11 billion, he says.
One key deficiency of the scheme is that the subsidy is paid only for finishing the phone in India, not on how much value is added by manufacturing in India. This matters!
As it happened, I put this larger issue to Neel Shah, vice president at Counterpoint Research earlier whose firm studies this space and works with clients here. He gave me a breakdown. There are 1.25 billion smartphones being shipped globally, of which 16% were made in India.
Breaking it down, 150 million phones were consumed in India itself and around 90 million smartphones are being exported.
Going forward, Shah believes we have the capacity to make over 600 million phones in terms of capacity including feature phones of which we manufacture 50 million which is not usually counted.
Now that big number may not happen because it depends, as he says, on how manufacturers divide orders.
The important thing to note is that as you can see, the camera in your laptop is similar though not the same as the one in your phone as on your smart TV and on some other appliance.
The same goes for innards as well. Shah says that with companies like MediaTek Qualcomm supplying processors or memory chips from Samsung we are looking at a common pool of electronics components driving the manufacture of network equipment for base stations, set top boxes, routers, smart TVs, smartwatches and so on.
This is not news to many but it is a fact that as more devices get assembled, the overall ecosystem will expand.
Rajan's note acknowledges that some part of the increased import bill could be electronics going into parts unknown, at least so far, like inside cars.
Apple is and will be a big driver for further growth in itself as it starts pulling away suppliers and supply chains into its India orbit.
If India starts making semiconductors, and chipsets then even better, though that is a little while away. At this point, it is strong intent with some move towards early investments from companies like Vedanta-Foxconn.
Finally, if we are exporting at a loss, there are still tens of thousands of new jobs and infrastructure investments in this space already, at this time mostly in Tamil Nadu and Karnataka with Telangana now joining in.
Just two weeks ago, Telangana said Foxconn will invest $500 million and create some 25,000 direct jobs with production targeted at the end of the year. Needless to add, it is more likely to be an assembly operation at this point.
Columnist TN Ninan of Business Standard argued last month that if labour-intensive exports are to succeed in India, as they well might, it is more likely to be with the assembly of products where the labour cost is a small part of the product price and/or where the domestic market provides an incentive for localising, like with mobile phones.
More importantly, he argues that the total payout under the PLI scheme is under Rs 200,000 crore over 5 years which is 1/10th of 1% of the expected GDP over that period.
This he says is entirely affordable, presuming that PLI does not become a permanent boondoggle.
On the other hand, if it succeeds even not as wildly as the Government might claim, it will trigger a hike in the share of manufacturing in overall capex, achieve import substitution, boost exports and most importantly, create jobs. The Government has said 6 million jobs. We are surely heading in that direction.
Digital Payments Gets A Billion Target
UPI transactions are likely to reach 1 billion a day in three years' time, accounting for 90% of retail digital payments in the country, a report from consulting firm PWC released on Tuesday has said. The report is called The Indian Payments Handbook 2022-27 and is in its third edition.
The report says that we would go from around 83 billion transactions last year that is 2022-23 to 379 billion transactions by 2026-27 or more than a billion a day.
The report also said credit cards would continue to grow at a healthy rate with credit cards expected to surpass debit cards by 2024-25 or the next financial year.
While credit cards are projected to grow at a CAGR of 21%, debit cards will stagnate and start declining. This is not surprising considering that debit cards are mostly used to withdraw cash or pay from the bank account which will get replaced by UPI.
Incidentally, the credit card business accounted for nearly 76% of overall card revenue last year, making it a lucrative business segment for banks, NBFCs and fintech, the PWC report said.
And finally, funding for the Indian fintech ecosystem is drying up, falling to $5.5 billion in 2022 as compared to $10 billion 2021 and is set to decrease further in 2023. There are many reasons for this but one significant one is tightening regulations by the Reserve Bank.
I caught up with the report's author Mihir Gandhi, Partner and Payments Transformation Leader at PWC India and began by asking him, what the 1 billion transactions a day means in the context of overall financial system transactions and where it was going,
Tech stock valuations continue to crash
Blackrock, a small investor in Byju's, has yet again cut the valuation of its holding in the ed-tech company, this time to about $8.4 billion.
Blackrock cut the value of Byju's share by 62% to around $8.4 billion in the quarter ending March this year, from a year ago, it disclosed in a filing. In April 2022 Blackrock valued the company at $22 billion.
Blackrock owns less than 1% equity in the startup and TechCrunch which reported this development, took pains to point out that other investors were holding and still valuing the company at a higher level.
A few other things which is not reported here of course is the fact that Byju now faces an Enforcement Directorate investigation into its books including raids in the last week of April 2023. The ED was looking specifically at some Rs 9,754 crore sent to various foreign jurisdictions beween 2011 and 2023 of some Rs 28,000 crore it received in the same period, it was reported. The money could of course be going out for many, quite valid, reasons but we do not know till the investigation is completed, when it is completed.
Byju also raised $250 million of debt funding from NY based investment bank and stressed asset player Davidson Kempner Capital management.
Some of the reporting seemed to suggest it was an equity raise which it was not. The Adani and Vedanta Group were among other companies raising funds from similar if not the same stressed asset funds including Oaktree Capital in the same period.
The point is not whether Blackrock will make or break Byju's valuation. The point is that overall fund flow into startups continues to fall.
With that, overall foreign direct investment numbers will continue to fall.
Gross foreign direct investment, for the first time in a decade has already declined. It fell 16% to $71 billion last year from around $82 billion the previous year which was pretty much a blowout year.
There is nothing to suggest in the global macros that valuations could change. Interest rates are high, most capital is now going back, in a manner of speaking, to where it came from. And the startups here, many of them, are unlikely to deliver on those valuations or hopes for some time, or perhaps never.
If you wanted some good news, here it is. India's stock markets are still strong, now having risen for the fourth consecutive day and more importantly, close to life time highs. The BSE Sensex was up 123 points to settle at 62,969 and the NSE Nifty was up 35 points to end at 18,634. Bank stocks, as I mentioned in my podcast yesterday, are on fire.
All this may not mean much for the investors of Byjus, but if you are listening, it might be a good time to invest in Indian markets, albeit in a staggered way.
And hmm.
Theranos founder Elizabeth Holmes, remember the company which claimed to make blood testing technology, was expected to report to prison last night to start an 11-year sentence for defrauding investors. reports the WSJ which began publishing findings about Theranos in 2015.
Theranos was valued at $9 billion at its peak.
Holmes has been convicted of wire fraud and paid a $500,000 fine and banned from being an officer or director of any public company for 10 years.
Her technology was basically a fraud and it never worked.
Holmes dropped out of Stanford University at 19 to start Theranos. She is now 39, has two children under 2 years and in addition to her sentence, she and another Theranos executive Ramesh Balwani, have been ordered to pay $452 million restitution.
While Theranos could be argued to be an exception, there have been several such spectacular blowouts in the last year, including the likes of FTX, one of the largest digital currency exchange platforms for cryptocurrencies.
Let's hope more don't join the list, whether elsewhere in the world or in India.