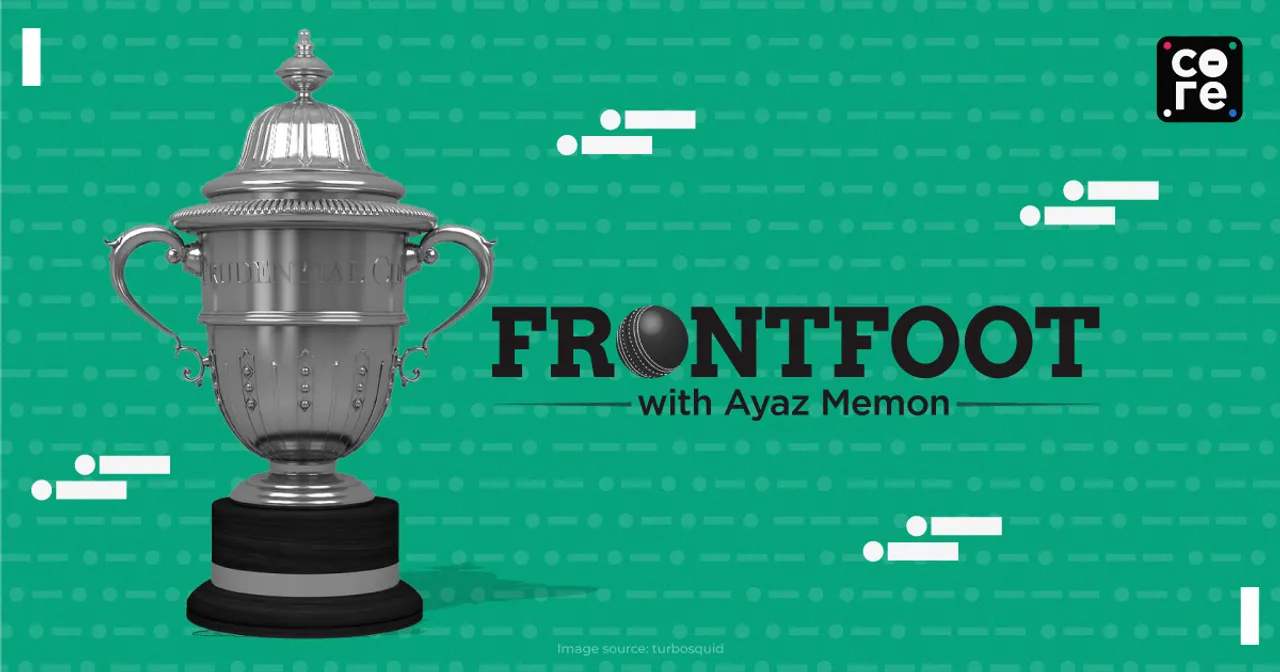 Flashback June 25, 1983. The underdog Indian team pulled off a remarkable upset against the formidable West Indies side, clinching their first-ever World Cup title. The match, which took place at Lord's Cricket Ground, is etched in cricketing history.  
While India had surprised everyone by reaching the finals, the wicket of Vivian Richards, the best player of that era, was indeed a turning point for India. Richards' dominance on the pitch and the impact he had on opposing teams were legendary, making his wicket a critical factor in determining the match's outcome. 
Renowned sports journalist Ayaz Memon takes us down memory lane in this interview with The Core's Joshua Thomas, Executive Producer (Podcasts).  Memon sheds light on how India's fortunes seemed to revolve around Richards' presence and how his dismissal in the final turned the tide in India's favor. 
"Richards was on a rampage. West Indies had lost Gordon Greenidge, another terrific attacking batsman, early to Balvinder Singh Sandhu. And then Viv Richards hit 33 runs with seven boundaries.  He had been going hammer and tongs at Madan Lal who was a fast-medium bowler in his younger days. Skillful, but not really threatening," Memon recalls.  Captain Kapil Dev wanted Lal to take a rest, but the bowler insisted on bowling to Richards as he seemed to have understood the plan of action. Lal got Richards out soon.  
In this interview, Memon shares a riveting narrative of key moments from the 1983 World Cup, including insights into the strategies and mindsets of both teams.  
Here are some edited excerpts from the interview:
In the 1983 World Cup, when India had a face-off with the West Indies, their performance seemed to hinge completely on Vivian Richards, and that the match would turn in India's favour only after Vivian Richard was got out. Is that a fair assessment?
That's actually quite true because by 1983, Richards was widely acknowledged as the best batsman. He was a very aggressive batsman. He could beat opponents or opposing attacks into submission by sheer force, not just of his strokes, but also from his personality. His presence in the middle generally had a very demoralising effect on bowlers and fielders and the opposing teams, especially if he stayed long enough. So what you say is absolutely right. 
Now, what happened during the 83 World Cup is that India played the West Indies thrice. We played them first in the opening match, which we actually won. And there too, we find that Viv Richards didn't play such a major knock. So that kind of swung the match in India's favour. Then there's the second match, which we played against the West Indies at the Oval, approaching the middle of the tournament, in which we got smashed, we were hammered. We lost that match very badly and in that match, Richards made a century. Then we come to the final where he was on the rampage again, chasing a small target. India had only made 183 runs. Thirty-three runs coming in double quick time and then he gets dismissed. After that the West Indies collapse, they stumble and they slump. And India won the final that you know virtually turn the cricket world upside down but Richards's wicket becomes such a crucial factor if you look at the first match the second match and the third match
So when Viv Richards is on the crease, which bowlers are selected to take on him?
That's a big question. If you asked the bowlers they would say "Don't count on me, take somebody else to bowl" because that was the kind of effect he had on the game. But more seriously, I think the captain has to trust the bowlers. Kapil Dev was the captain during the World Cup in 1983. You can't take the field with a defeatist mindset that "Good Lord Viv Richards is there batting, who should bowl because any bowler would get hammered?" If that's the sentiment in the captain or the leadership group, then the poor bowler will be so low and in the dumps that he's unlikely to bowl well. The 1983 World Cup final is a classic example of that. 
Viv Richards was on a rampage. West Indies had lost Gordon Greenidge, another terrific attacking batsman early to Balvinder Singh Sandhu and then Viv Richards hit 33 runs with seven boundaries.  and he had been going hammer and tongs at Madan Lal who was a fast-medium bowler in his younger days. Skillful, but not really threatening he didn't have the Express pace of a Malcolm Marshall or a Mike Holding or a Joel Garner or Andy Roberts. But what he had was a big heart, he was willing to take punishment. And what happened in that final match was that Kapil Dev decided that he would take him out of the attack because Richards was scoring runs at breakneck speed. The match would have been over in double quick time. So he removed Lal from the line of attack. But Lal implored his captain, and he's spoken about it subsequently, even after the match. Every time that World Cup final match is recounted, there are two dismissals that always become talking points. One is Balvinder Sandhu's dismissal of Gordon Greenidge where he let the ball go. He believed that the ball would go outside of the stumps but the ball ducked back in and he was bowled out. The other one is Lal getting Richards out who was in a great rush to finish the match early.  He pulled the ball from Lal which went high in the sky and towards deep square leg and Kapil Dev pulled off one of the greatest catches.
But the point I'm trying to make is about self-belief and leadership, how it can accommodate, how it can manipulate, how it can plot out a path in the middle and this is all happening within minutes it's not like some great strategy taking place over weeks. Lal was getting hammered and the captain goes to him saying "Madipa (elder brother), I think we'll rest you for a few overs and then bring you back." What else can you tell your bowler and Madan Lal says "Nahi Kapil," Kapil was junior to him so he addressed him by his first name, "Give me one more over," And Kapil said "But you know, we've been leaking runs. So this match is just slipping out of our hands completely." Madan Lal Say, "Just give me an over. One thing which I'm sensing is that Viv Richards has been so good till now that he could be a little over-ambitious. Therefore, if you're over-ambitious, you might end up making a mistake or he might end up making a mistake." And as it transpires Kapil Dev buys into that argument and that logic and says "Okay, one more over". 
Madan Lal bowled that short-pitch delivery which had Richards rolling. And this is where the crux is that Viv Richards, the best batsman in the world, on the rampage, made that blunder in judging the length just that wee bit. These are all nuances and percentages on which the sport rests. So he pulled the ball, the ball went in the air, and did not clear Kapil Dev. So, he ran, out cleared the field, otherwise that would have gone for a six. But because it had bounced a little extra, it was not as short as he thought, he just miscued just that wee bit, and the ball went up in the air and Kapil Dev ran back 20 yards to take that catch. That was the end of Richards and India found an opening they prized open the West Indies batting. And after that, they fell. 
Of course, there's a little element of luck that Clive Lloyd, who was the captain of the team and another devastating batsman, pulled a thigh muscle and therefore is obviously not in comfort, he couldn't run. He couldn't even lean into his shots. The balance while you're playing is a little affected. So he played a poor shot and was dismissed. So two big guns fell fairly quickly. That turned the tempo in India's favour. Still, a long way to go because the target was very modest. They made only 183. But getting Gordon Greenidge, Viv Richards, Clive Lloyd brought India back into the match. And after that, it became a big tussle. And India went ahead to win that tussle by just believing in themselves.  
With those wickets, would that have affected the morale of the West Indies team? Did their performance significantly dip or did some of them try to make it up? Or was it just a lost cause?
No, I think they fought til the bitter end. Yes, of course, it affected their performance because they had three main batsmen getting out. West Indies, at the innings changeover after India was all-out for 183, would have believed it was a done deal, West Indies was winning the title for the third time because the target was so small. And what could save India? 
What did the Indian team feel like when they finished the innings like that? Were they worried?
They were in the dressing room. I was in the press box. They later told the media, "We've got 183 on the board. Whatever runs we got, we got them on the board. West Indies have to make those runs, they have to get them. So obviously the pressure will be on the West Indies." The other way of looking at it is, "look, we were a real unfancied team, we've reached the final. What do I really have to lose? Let's give it our best shot. West Indies have more to lose, they're the defending champions. The pressures on them, they are a great team. The psychological pressure got kind of inverted. Instead of being on the Indian bowling attack. It was greater on the West Indies' batting. 
Of course, the West Indies were showing undue urgency to finish the match because they thought they would wrap it up quickly and finish it. That is where somebody like Viv Richards paid the price for being over-ambitious. And then Gordon Greenidge fell early, then Clive Lloyd, Desmond Haynes, Larry Gomes, and wickets kept falling. When things like this happen, when the pattern of play goes completely against expectations, the pressure on the team batting becomes bigger with every passing over. West Indies fought till the end, but their lower order and their tail – the last bowlers who will come in to bat last –  got exposed. And by that time India was sensing an upset themselves, you start feeling it in your veins that we can pull this off. And they became very good in the field, they started bowling better, they started fielding better. So, it was a low-scoring match, but a terrific contest. India of course, went on to create history.
What was the feeling after we won that match? After that last LBW, what was the feeling in the stadium?
I was at Lord's, so I can tell you that the Indian supporters were thronging the ground. They were delirious. They went completely nuts, if I may put it that way. And the West Indian supporters were nuts, right through till the end, except the last hour or so because they thought that this was a match they would win. They were completely sullen and silent because it was an unbelievable experience for them to see their great team being beaten by an Indian team, which actually nobody reckoned would even be in the final, forget about winning it. So very contrasting moods of the respective supporters. 
But I was there at the Prudential tent. Prudential were the sponsors and they had a Shamiana tent after the match where the players and people from the media went for a glass of champagne post-match. Very few West Indians turned up. They were obviously completely distraught having lost a match and lost the final, which they were expected to kind of win in a canter. Kapil Dev was in his element. I think he was a teetotaller then but I think that day he knocked back a couple of glasses of champagne and all the Haryanvi in him came out. I mean, it is great fun and the kind of impact it had back home in India, obviously the country went completely ballistic. The celebration went on for quite a number of days. In fact, they still go on. 40 years was recently celebrated as a triumph in India. That has been the impact but it changed the profile of Indian cricket. The mindset of not just cricket in India, but the mindset of Young India or Emerging India, that things are possible we can do it. I think that's the biggest message for the national psyche, which came from that win.