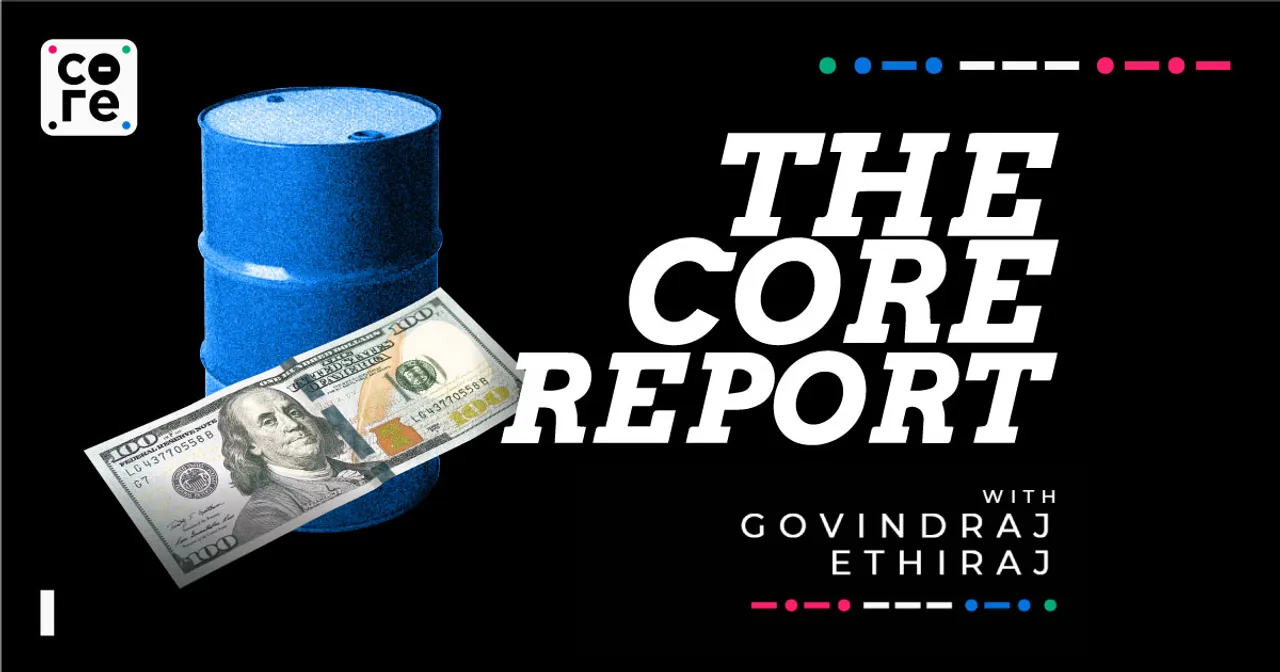 On today's episode, financial journalist Govindraj Ethiraj talks to Captain Sam Thomas, a former Jet Airways pilot and now President of the Airline Pilots Association of India as well as Akshay DSouza, Chief of Growth and Insights at Bizom. 
---
Our Top Reports For Today
[00:00]

 

Stories of The Day
[00:50]

 

The markets take a u turn, fall 800 points, $100 predictions for oil are here.
[02:27]

 

Contract, what contract, say pilots as Akasa Air takes battle with fleeing pilots to court. 
[14:30]

 

Consumer demand is falling across categories, rains are one reason.
[20:48] All is forgiven for now, Total France is back with Adani in a new venture
---
NOTE: This transcript contains only the host's monologue and does not include any interviews or discussions that might be within the podcast. Please refer to the episode audio if you wish to quote the people interviewed. Email [email protected] for any queries.
---
The first signs of weakness were already there but the Sensex yesterday fell further by 796 points, to end at 66,801 levels, while the Nifty50 breached the 20,000-mark to settle at 19,901, down 232 points.
The Nifty MidCap and SmallCap indices, too, dropped up to 0.5 per cent. 
Several triggers could be driving the nervousness in the markets, including of course oil, a rise in US Treasury yields and selling by portfolio investors, which in itself is not new. 
"Caution is advised in the Indian stock market, especially in the small and microcap segments, as there are potential sources of intermittent volatility, such as the US Federal Reserve's actions, rising commodity prices (especially crude oil), uncertain monsoon impact on crop production, upcoming state elections, and soft rural consumer demand," said Milind Muchhala, executive director at Julius Baer India, quoted by Business Standard.
Meanwhile, in other, notably commodity markets, Goldman Sachs Group Inc. has rejoined the $100-a-barrel oil club, raising its forecast for crude back to triple digits as worldwide demand hits unprecedented levels and OPEC+ supply curbs continue to tighten the market, reported Bloomberg.
Prices have risen by more than 30% since mid-June to breach $95 a barrel on Tuesday. However, most of the rally in the vital commodity "is behind us," the bank said in a note.
Pilot War
The year old Akasa Airlines ran into an unusual problem, fleeing pilots and a court case on them following suit. Some 43 of them are believed to have quit en masse and joined, if reports are to be believed, Air India Express, now owned by the Tatas.
Both airlines fly Boeing 737s, the pilots of which are not easy to find, at least right now, and going by one opinion I will come to shortly, anywhere in the world.
The larger issue is employment contracts. Akasa Air says the pilots have breached a 6-month notice period and taken off, quite literally. The notice period is long but ideal, most airlines have said at other points of time.
A contract works both ways of course. Pilots allege airlines don't really honour contracts when things go wrong and usually leave them  hanging high and dry.
In their view of the world, dishonouring a contract is quite honourable, particularly if it was not a nice contract to start with and if the airline had breached it too, as they are alleging in the present case.
Matters got a little compounded for Akasa Airlines when its lawyer who filed suit in Delhi High Court dramatically announced that the airline was in a "state of crisis" and might "shut down" due to the abrupt resignation of 43 pilots to join rival airlines. 
Their lawyers pleaded with the court to direct the Directorate General of Civil Aviation (DGCA) to enforce the mandatory notice period rule for pilots. The notice period is six months for co-pilots, and 12 months for commanders.
Quite obviously, the one line from the lawyer was reported, or rather selectively reported to suggest the airline itself had said it was shutting down, which obviously it had not.
Nevertheless, this led to much social media agony which would have ruled the day or another day were it not for another, less lawyerly rift, between the two countries of India and Canada, ruling the airwaves. Which I will come to shortly.
And the going to court itself is a somewhat unusual and aggressive move by the airline.
Vinay Dubey, CEO of Akasa Airline and earlier with Jet Airways in the same position told employees later yesterday the  company was in fine fettle and said Akasa was "never more confident" about its "future and will continue to invest prudently, with longer-term financial success in focus". 
Dube also wrote that Akasa was generating cash from the first day of its operations, and this meant that the initial funds put in by investors, including the deceased ace investor Rakesh Jhunjhunwala, remained "secure in our bank account". 
So Akasa will curtail some routes and flights but will continue flying normally elsewhere, till it can get hold of some pilots or presumably poach them from elsewhere.
Now, to the point of pilots and their view on life, which I can assure you from years of covering aviation on and off can vary from their employers, I reached out to Captain Sam Thomas, a former Jet Airways pilot and now President of the Airline Pilots Association of India, which claims over 600 members and pilots from over 30 airlines including Akasa Air.
I began by asking Captain Thomas what his current position on the matter was.
---

India - Canada Battle
A diplomatic battle between Canada and India over the killing of a Sikh leader and Canadian citizen in Canada is threatening to put a freeze on growing economic ties between the two countries. 
Trade between the two countries is worth around $9 billion. Merchandise imports and exports from India to Canada were at a little over $4 billion each, less than a 1%, according to figures from BQ PRime. 
However, India is the largest source of foreign students in Canada's colleges and universities and sent over 200,000 last year alone.
In the markets, the biggest Canadian public pension managers have poured tens of billions of dollars into Indian companies and projects, including renewable energy, infrastructure and banks.
Three large funds Canada Pension Plan Investment Board and pension funds for Quebec workers and Ontario school teachers — have over $32 billion invested in India, Bloomberg News reported.
Bloomberg News said the White House has reacted cautiously, with National Security Council spokesperson Adrienne Watson saying the administration was "deeply concerned" and called on India to cooperate with the Canadian investigation.
Meanwhile, the Ministry of External Affairs on Wednesday issued an advisory for the Indian nationals residing in Canada and those contemplating travel there asking them to exercise utmost caution.
Kirana Stores Slow Down On Stocking
A few weeks ago, I spoke to Dhairyashil Patil, President of The All India Consumer Products Distribution Federation where he spoke about how inventory levels were rising with dealers as sales were slowing down in kirana stores across the country.
He attributed it to people holding back on expenditure and saving more, a feature he said he did not see even during Covid, proportionately.
Latest numbers from Bizom, a retail intelligence platform and company that collects data from some 5 million kirana stores across the country shows that year on sales for several categories have slowed quite sharply.
Also, kirana stores are not stocking up as much in anticipation of lower sales.
Year on year, commodities are down 24%, or a negative 24%, beverages down 9%, confectionery is down 15% and personal care is down 19%. Home care is the only segment that has grown smartly at 18% year on year again.
Overall, rural growth is down around 17% while urban growth is around 2% or mostly flat.
What do these figures suggest, particularly in context of overall consumption patterns and consumer behaviour numbers nationally.
I reached out to Akshay D'Souza, Chief of Growth and Insights at Bizom in Bangalore and began by asking him
---
Total and Adani are back
Back home, Adani Green Energy on Wednesday announced a new joint venture with France's Total Energies to house a 1,050 megawatt (MW) green portfolio. Total will invest $300 million in the deal, said Adani Green.
There are already four ventures between the two going by a statement made in February by Total including Adani Green Energy.
This is the first deal announcement between the two companies since a report by Hindenburg Research, a US short-seller, on Adani Group in January which led to all Adani stocks being pounded on the bourses.
In February, Total had put out a detailed statement about its transactions with Adani, saying essentially that its investments were undertaken in full compliance with applicable – namely Indian – laws, and with TotalEnergies' own internal governance processes. 
Total had pointed out that its investments represented 2.4% ($3.1 billion at December 31, 2022) of the Company's capital employed. Total first partnered with Adani in 2018 to develop a joint LNG business. At that time, it had four ventures. 
| | |
| --- | --- |
| Adani Total Private Limited | 50% |
| Adani Total Gas Limited (cotée) | 37.4% |
| Adani Green Energy Limited (cotée) | 19.75% |
| ANGEL23 | 50% |
Total Energies will invest $300 million to form a new 50:50 joint venture company that will house a 1,050 MW portfolio. The portfolio will comprise a mix of already operational (300 MW), under-construction (500 MW) and under-development assets (250 MW) with a blend of both, solar and wind power, said Adani Green. Adani Green's total project portfolio stands at 20,434 MW.