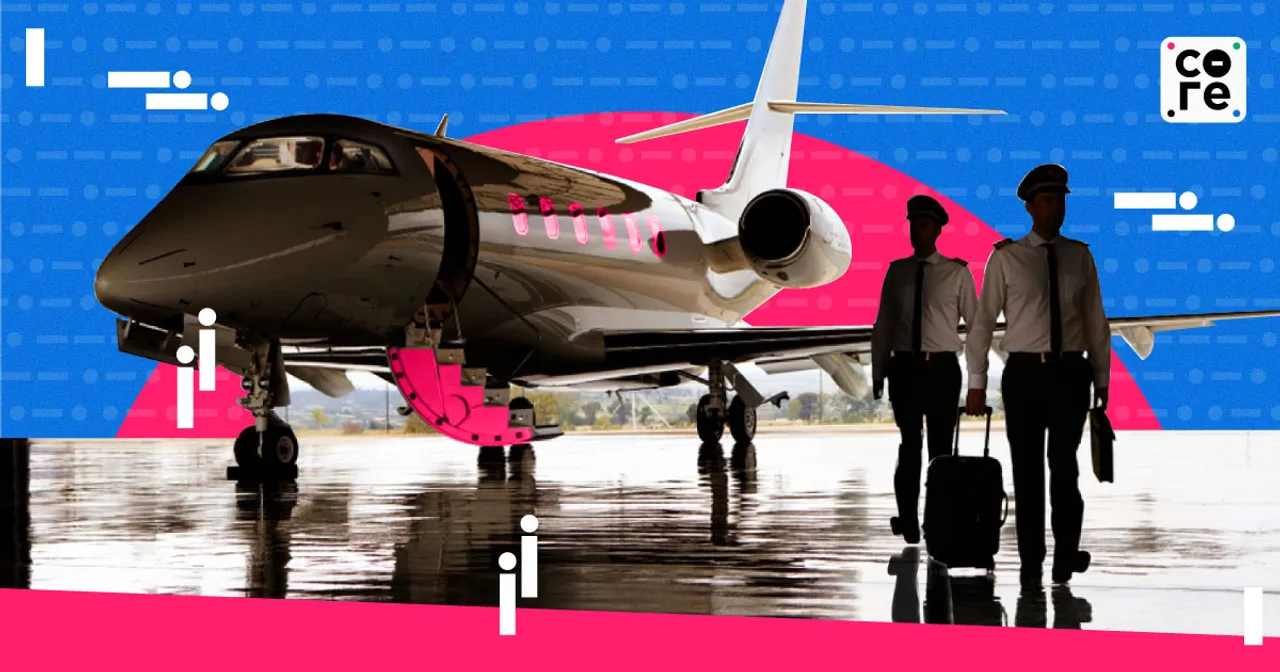 India's airlines are expanding like never before with over 1,100 aircraft on order. From the outside, it looks like there's no better time to be a part of the aviation industry in India. It seems like there's a glimmer of hope for pilots — a critical part of the aviation sector — who suffered during the pandemic and after as air traffic hits new highs. 
Yet, digging deeper reveals that things are far from rosy. If anything, the relationship between pilots — who already struggle to feel a part of the organisations they serve due to the nature of their job — and the management appears to be getting more hostile no matter which airline they work for. 
IndiGo's Rocky Boat
Last week, an IndiGo management message did the rounds on Whatsapp - it appeared to have been sent to a few pilots who had exceeded their sick leave entitlement - asking why they should not be placed under the "Pilot Dependability And Disciplinary Control Program".  It was a rap on the knuckles from the bosses with an aggressive tone and content.
CEOs at rival airlines and industry veterans said that most airlines have a set of checks and balances to keep errant pilots or frequent "troublemakers" in rein, even if the wording or handling is less harsh than that of the message that was circulating. 
While it is difficult to justify or have a valid explanation for the severe tone that IndiGo appeared to have adopted with its pilots, one can confirm that if India's largest airline has had any weak spots, it has been its adversarial and frayed relationship with its pilots. In April 2022, the airline suspended a group of pilots over their mass sick leave. A number of pilots currently argue that they are overworked to the point of fatigue and are underpaid for their efforts. However, this is something the management refuses or chooses not to acknowledge or fix, they allege.
The airline is paying the price in more ways than one. Some are more apparent such as losing several loyal commanders, many of whom started their careers with IndiGo, to Middle East carriers. The more worrying aspect is the simmering discontent and hostility that is building.  Discontent among IndiGo's pilots has been festering for a while and a recent salary hike has done little to reverse the trend. That the problems and solutions run deeper and need far more nuanced handling is obvious even to outside observers. Although the airline has been trying to actively discourage unionisation of its pilots almost since the word go, I think it may in fact gain from this since unions feel freer to speak out, which might well be the need of the hour. Who gains from having a running battle over social media and other platforms? Neither side, as I see it. 
ALSO READ: Foreign Degrees Lose 'Edge' In Indian Job Market As Students Struggle To Find Employment
Air India's Souring Ties
If IndiGo's boat is rocky, Air India's is threatening to tip over. It wouldn't be an overstatement to say that the equation between the new management, put in place by Tata Sons, and the airline's pilots has hit new lows. Even almost two years after the sale of the erstwhile national carrier, not a week goes by without commanders and crew from the airline voicing their grievances on WhatsApp. A recent one circulating on the messaging app read "Title Deflation in Air India: The Subtle Art of Undermining Pilots' Status". The forwarded message went into detail about how the airline was trying to put "commanders in their place" by reducing their involvement, importance and responsibilities to the detriment of the carrier.
Insiders argue that this was affecting employee morale and self-esteem and was being deliberately done to alienate commanders and crew. While the Tata management's focus has been on the look, feel and quality of service, they need to turn their attention to a bigger challenge, which is fixing what is not visible to the eye. 
Legal Action By Akasa Shortsighted
While IndiGo and Air India have a long arduous way ahead in fixing the lesions and cracks in perceptions and relationships, the newest player in the industry Akasa set a bizarre precedent by moving the courts against a small set of pilots who quit their jobs without adequate notice. India's newest airline also asked the Directorate General of Civil Aviation to take action against a larger group that was threatening to resign almost en masse without serving a full notice period. While even a small set of pilots leaving can be disruptive for such a small operation, the airline's actions stunned many in the sector who described the action as "aggressive", "hypocritical" and "immature" in equal parts. 
One, even without going into the merits and demerits of the move by Akasa, the action appears short-sighted for a new player who hopes to grow and attract talent for years to come. Potential future employees may think twice before joining an airline that is quick to resort to legal means at the first whiff of trouble or unrest.
Two, many industry sources point out that the airline's cancellations and somewhat haywire schedules appear to have preceded the resignations or at least the public knowledge of them. It would perhaps be far more constructive for Akasa's management to introspect as to why so many crew members want to leave the airline within just a few months of joining.  
While some pilots and crew may not be the most ideal employees and be a handful, airlines must remember that some global carriers have over the years been brought to their knees when pilots have protested vociferously, The havoc that wreaks — both financially and on employee morale and motivation — cannot truly be quantified. It might be prudent for Indian carriers to make a serious attempt to resolve the pilots' concerns rather than go on this present path of locked horns. Scratching the surface or turning a blind eye could be shortsighted and costly.
ALSO READ: EV Two-Wheeler Makers Are Leaning In As Premium Market Grows