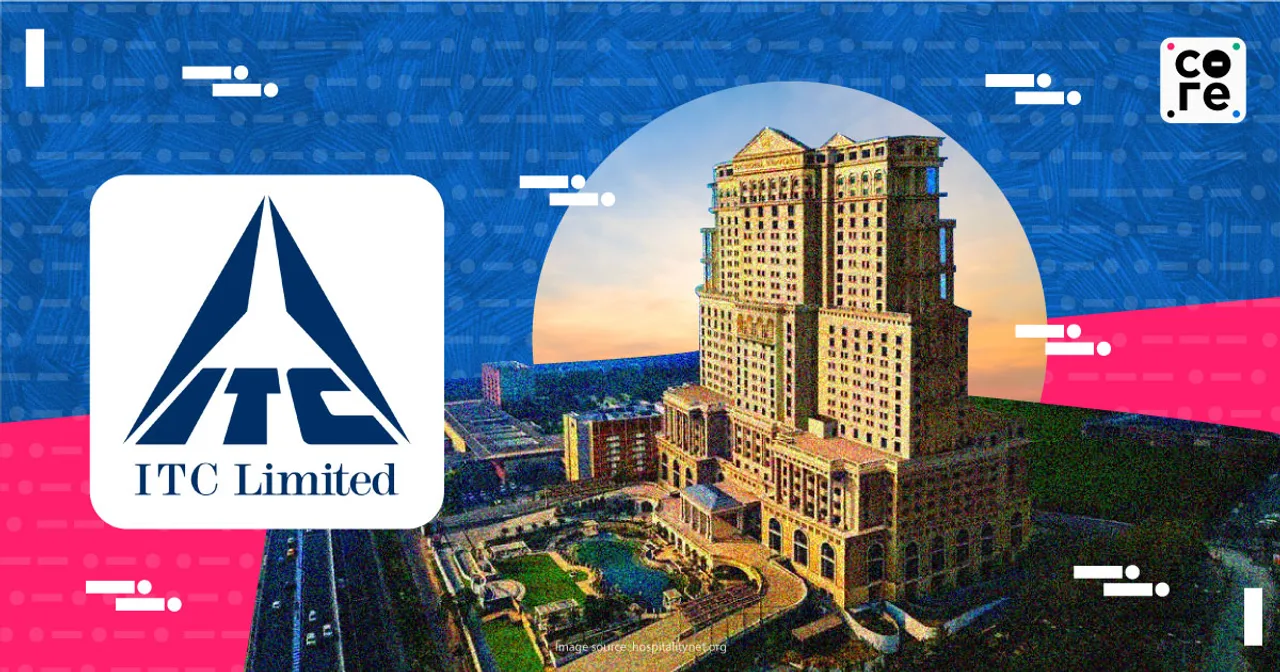 ITC as we know it, began its journey in India, in 1910, as the modest outpost of the Britain-based Imperial Tobacco Company of India Limited at Calcutta's Radha Bazar Street. BAT, a joint venture between the UK-based Imperial Tobacco Company and US-based American Tobacco Company, had a 100% equity participation. As the company's owners became more Indian, it was renamed the India Tobacco Company Limited in 1970 and later to ITC Limited in 1974. The company now stands renamed ITC Limited, where "ITC" today is no longer an acronym.
ITC Hotel's story began in 1975 in Chennai, a diversification that was ahead of its time in some ways for the then cigarette-parent ITC. The company launched its hotels business with the acquisition of a hotel in Chennai which was renamed ITC-Welcomgroup Hotel Chola, now known as Welcomhotel by ITC Hotels. The objective of ITC's entry into the hotel business was rooted in the concept of creating value for the nation.
Under the chairman KL Chugh, the company saw massive diversification on other fronts. ITC Limited now has multiple businesses like cigarettes, hotels, paper boards, FMCG, agri and so on. As the ITC started diversifying itself, the return on capital employed (ROCE) of the consolidated ITC started declining due to the mid teens return profile of other businesses and single-digit ROCE of the hotel business. Now the question comes, why is ITC demerging their hotel business?
Why The Hotel Business?
The management sees a long-term story in hotels though at the same time investors would ascribe a lower multiple due to drag down in returns because of lower return business.
But now it plans to demerge its hotel business. The ITC board approved this on August 14. The demerged entity will be known as ITC Hotels, with an indicative timeline of listing of the new entity in about 15 months i.e. November 2024. The hotel business will have the licence to use the ITC brand name.
It also plans to adopt the asset-light strategy to accelerate growth. Those who want to participate in the growth journey of ITC Hotels, need to buy the ITC shares before listing of ITC Hotels or someone who is only interested in the hotel business can own shares post-listing.
ITC Hotel will continue to use the brand name and also access cross synergies through products as well as services. ITC Hotels contribute just 2% to the segmental profit pool where 21% of capex pertains to the hotel business. 
So now what would a business or investor do if this is the case? And more importantly, is there a medium to longer term value creation in a possible takeover or acquisition by another hotel chain?
What's Leading To The Demerger
Balancing high-yield and low-return businesses is akin to a high-wire act. While promoters may see long-term potential in low-return ventures, investors often penalise such diversification by assigning lower multiples to the entire entity. The challenge lies in reconciling these conflicting perspectives.
Let us take the example of Navin Fluorine and SRF chemicals. SRF chemicals trades at an earnings multiple of 32x-35x, and Navin Fluoride trades at an earnings multiple of 58x-61x. This gap in multiples is because SRF is present in multiple business segments like packaging films, technical textile, and chemical business and even within this chemical business SRF has a refrigerant gas business and agrochemical business. If we look at Navin Fluoride, it has only one business: the chemical business.
A demerger creates focus on one particular business model. From an investor's point of view, it becomes easy for them to own only the hotel business, they can buy shares of the new entity. For a long time, ITC investors have been waiting for the demerger of its hotel business to unlock the value for existing shareholders. 
The cigarette business has a high return on capital, and all other businesses, except for hotels, have over 15% return on capital. Hotels only have a 10% return on capital, which lowers the overall business's return profile.

Even ITC is putting 21% of capex infusion into their hotel business in FY22-23 whereas the contribution to overall EBIT by hotel business is as low as 2% to the overall company. 
Scheme Of Demerger
Under a scheme of arrangement, ITC will retain a 40% ownership stake in the newly created entity, ITC Hotels, while the remaining 60% will be directly owned by the shareholders.
ITC Hotels will give shares to ITC's shareholders. For every 10 shares held in ITC, ITC shareholders will get one share of ITC Hotels, which represents the ownership of 60% of the ITC Hotels. The other 40% will still belong to ITC. So existing ITC shareholders will have 100% of ITC Hotels, with 60% being directly theirs and the remaining 40% through their ITC shares.
As of September 1, 2023 ITC has 1,247 crore shares and a total of 32.45 lakh shareholders. For ITC hotels before the demerger shares are 83 crores. Following the share entitlement ratio of 10:1 ITC Hotels will issue new shares. Specifically, they will issue 125 crore new shares. After the restructuring, ITC Hotels will have a total of about 208 crore shares. Out of these, 83 crore shares will be held by ITC, and 125 crore shares will be allocated to the shareholders. Each share in ITC Hotels will have a face value of Rs 1.
Why ITC Is Keeping 40% Stakes 
British American Tobacco, the second largest cigarette manufacturer in the world (in terms of number of cigarettes sold), is also the largest and oldest shareholder in ITC. BAT has been involved with ITC right from the beginning. Like many other shareholders of ITC they're likely interested in the high ROCE business of ITC. 
BAT has no history in the hotel business and is unlikely to venture into it. BAT is leveraged heavily in its standalone business and would look to reduce this leverage. The hotel business would require even more capital infusion so it does not make sense for BAT to enter it.
BAT told The Financial Express recently, "We are aware of ITC's intention to demerge its hotels business. In principle, we are supportive of this, though recognise it is subject to a number of approvals and will take some time to complete."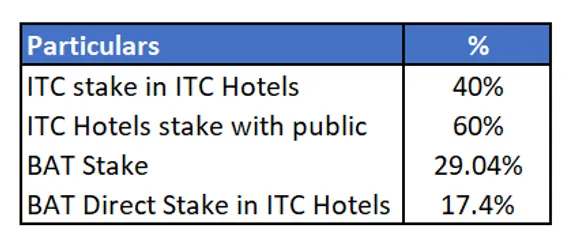 If ITC demerged their entity with a normal 1:1 or full demerger, then BAT will be a 29.04% owner of the ITC Hotels as well. 
This would mean that in case BAT goes to any private equity investor or other competitor for their stake sale, the buyer directly owns 29.04% and this transaction also leads to an open offer where it can further buy 26% from the open market. If that happened, ITC could lose complete ownership of the hotel business. To avoid this and also save itself from a hostile takeover, ITC kept a 40% stake in ITC Hotels .
This makes ITC the biggest shareholder in the ITC Hotels and BAT has no significant influence since their direct shareholding is even less than 20%.
Why ITC Hotels Could Become Prey To Hostile Takeovers  
The hospitality industry in India is massive with a strong growth potential because of India's growing per capita income, urbanisation as well and government push towards tourism.
ITC Hotels is the second-largest listed player in the industry after Indian Hotels. From a revenue of Rs 1,138 crores and an EBIT of Rs 1.49 crores in 2013, ITC Hotels has now gone to a revenue of Rs 2,585 crores with an EBIT of Rs 5.42 crores. 
It has a room inventory of more than 11,000 across 120+ locations and more than 70 countries. ITC has a presence across markets through a variety of hotels in luxury, premium as well as mid-markets offerings with room rates ranging between Rs 3,000 to Rs 80,000 per night.
More than half of the rooms on ITC Hotels are on management contracts and the remaining chunk is owned so this is the asset-light strategy that many of ITC peers like Indian Hotels are adopting. ITC Hotels stands as a strong chain of hotels within the hospitality industry and ITC Hotels will be a debt-free company with a focus on an asset-light model.
For those with a keen interest in the world of hotels and accommodations, the indisputable conclusion is that ITC Hotels reigns as a remarkable business opportunity for takeover.
Today the cost of setting up such a hotel chain which has zero debt on the balance sheet is higher than the cost of acquiring such chains. 
Will BAT Sell Their ITC Hotels Stake?
BAT's value of ITC shares stands at around Rs 1,60,000 crores. In December 2022, BAT had come under pressure to sell their stake in ITC to manage its debt. BAT had planned for a share buyback which was deferred saying that ITC still holds strategic value for them and there is huge potential in Indian markets for the new nicotine-based products. BAT can monetise this stake by launching their nicotine products via ITC because there is a ban on FDI on tobacco-based products.
Since BAT also approved this demerger, one needs to look going forward and stay tuned with their commentary on Indian business to ascertain whether they will keep holding ITC Hotels or not.