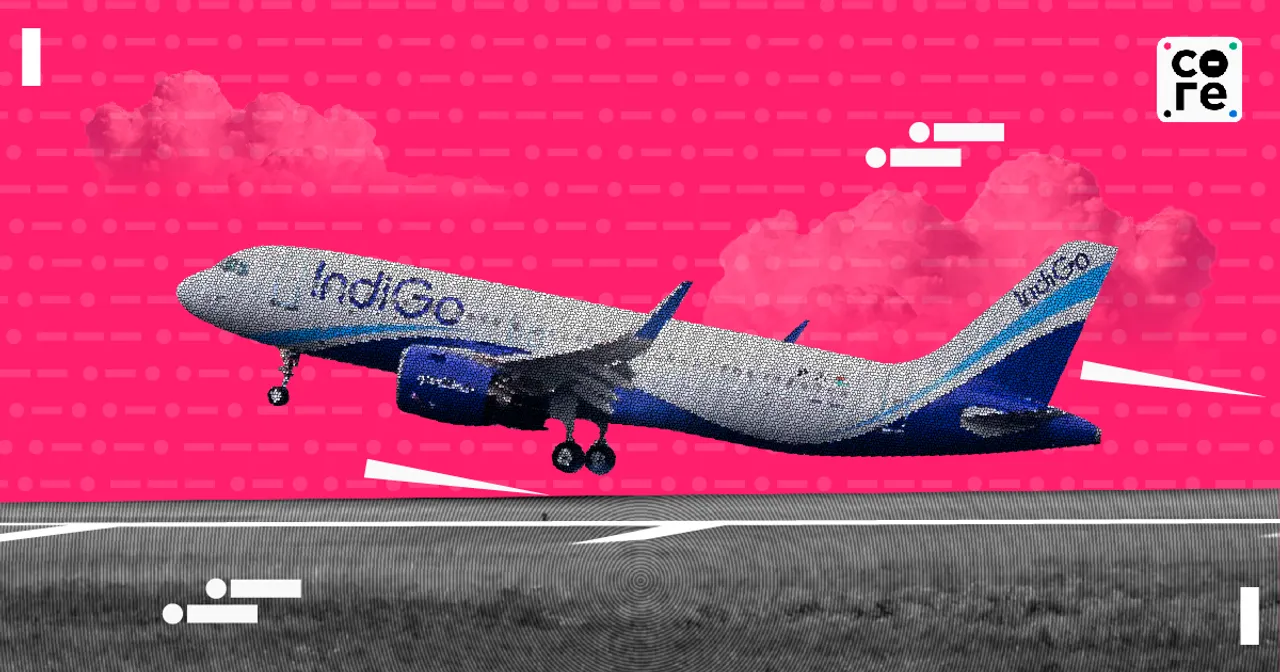 An opportunity like never before has come knocking at budget-airline IndiGo's doorstep. India's aviation sector is recovering and finally emerging from the dark Covid-19 tunnel. Now, several factors have aligned to let it have its true moment in the sun in the next few months.
After many quarters of heavy losses, the airline reported a net profit of Rs 1400-odd crore in the October-December 2023 quarter, followed by a just-above Rs 900 crore profit in the following quarter (January-March 2023), ensuring that the airline ended the financial year with a small loss.
Weakened Competition: IndiGo's Strategic Advantage
The pandemic weakened IndiGo's pre-pandemic rivals like never before. Wadia-owned Go First, which at one point was commanding a 10% market share, has now declared bankruptcy. SpiceJet, which at its peak reached a fleet of 110 aircraft is shaken, stirred and shrivelled down to practically half its previous size.
Tata-operated Vistara has begun to prepare for its much-dreaded merger with Air India, which is in the throes of dramatic and hopefully transformational change. But it will be a while before this combine becomes a formidable competitor, the pain and presence of which is felt by anyone including India's largest private airline.
Add to this some other externalities that have worked in its favour. Although the Ukraine war shows no clear signs of ending, fuel prices globally have cooled since June 2022 with increased supplies. That's a big relief for all consumers of aviation turbine fuel (ATF).
IndiGo's fuel cask for the latest quarter was 8% lower than its previous, thanks to a fall in prices. The rupee closed stronger at the end of the quarter, leading to a small foreign exchange gain for the airline.
Overall, non-fuel CASK rose a bit due to slightly higher maintenance costs but the other two factors overrode. Higher load factors, better yields and economies of scale helped spread its fixed costs better and aided the bottom line as did the sharp rise in revenues (18% higher than the same quarter last year) due to increased demand which set in from the summer of 2022.
Operational Efficiency: IndiGo's Smart Moves Amid Challenges
If external factors helped, IndiGo too was not exactly twiddling its thumbs. The airline executed a series of measures to improve performance after contending with several quarters of losses. Despite engine-related supply chain troubles — which have led to close to 37-38 aircraft being grounded at any point — the airline managed to exceed its capacity guidance for the year marginally.
This was done by both extending existing leases but also by bringing in additional capacity through damp leases (the cockpit crew is the airline's and the cabin crew and aircraft are outsourced). Earlier, the airline also took the proactive decision - unlike Go First which has paid a heavy price - to replace its Pratt & Whitney with CFM once the engine troubles mounted.
The capacity it added has been deployed on several new destinations — Ras-Al-Khima, Mopa-Goa, Nashik, Itanagar, and Dharamshala to name a few — which have now begun to show results. The airline has also been making a concerted effort to improve its aircraft utilisation and for the last few quarters, this critical factor is back to almost the pre-pandemic figure of 13 hours per day.
A recently introduced three-point disembarkation system has helped lower turnaround times by saving a couple of minutes per flight. It also doubled down on its cargo operations - launched more determinedly as one of the survival tactics during the pandemic - as it began to see how lucrative this line of business could be going ahead. In short, if the stars were shining on them brightly, IndiGo did its level best to meet them halfway.
Leadership at IndiGo: New Direction Under CEO Pieter Elbers
Internally, the airline has a new management team. Led by its new CEO Pieter Elbers, the carrier seems well placed to take advantage of the various factors that have converged to allow it to recoup some of its losses.
Although some of its senior commanders with 10-15 years of experience have left to join some middle eastern airlines that have begun rehiring, this is as yet more a trickle than any kind of flood. It does however remain one of the trickier slopes as keeping commanders happy has never been a strength for the carrier.
Barring Jet and for a while Kingfisher, rarely have this set of workers remained uncomplaining for any extended period of time across airlines. IndiGo might want to consider stealing a leaf or two out of Jet's books in this regard.
As we move ahead with this year, the impact of the stoppage of flights by Go First will be felt by all the players in the coming quarters, especially IndiGo which has been able to provide some additional capacity to mitigate the withdrawal. April-June is the high season and this should reflect in its first quarter results.
While Air India is gearing up to offer some credible competition, it is yet to make its presence felt in any significant manner or aspect. The others are either too weak or too small to matter.
IndiGo's Continued Success: What Lies Ahead in the Turbulent Skies?
So, as the airline looks forward to serving 100 million customers this year, can any factors spoil this happy party? Can the airline now just sit back and smell the heady coffee brew? Do airlines ever have the luxury of sitting back?
The answer remains a resounding no! The nature of the business is 24/7 and only the most nimble, tightest ships flourish. To take anything in this volatile sector for granted would be a mistake. Aviation business remains highly vulnerable to external shocks — wars, plagues, bloopers like demonetisation, supplier and vendor troubles — with too many variables remaining outside the airline's direct control.
This notwithstanding, analysts and observers argue that the stars seem to have aligned in perfect synchronisation to allow IndiGo to make good on some of the discipline it has displayed and on some of the bets taken post-pandemic. It is definitely the moment and perhaps time to disco!
Also Read: 2025 Versus 2019: What We Could Expect From India's Airlines A Few Years Down The Line