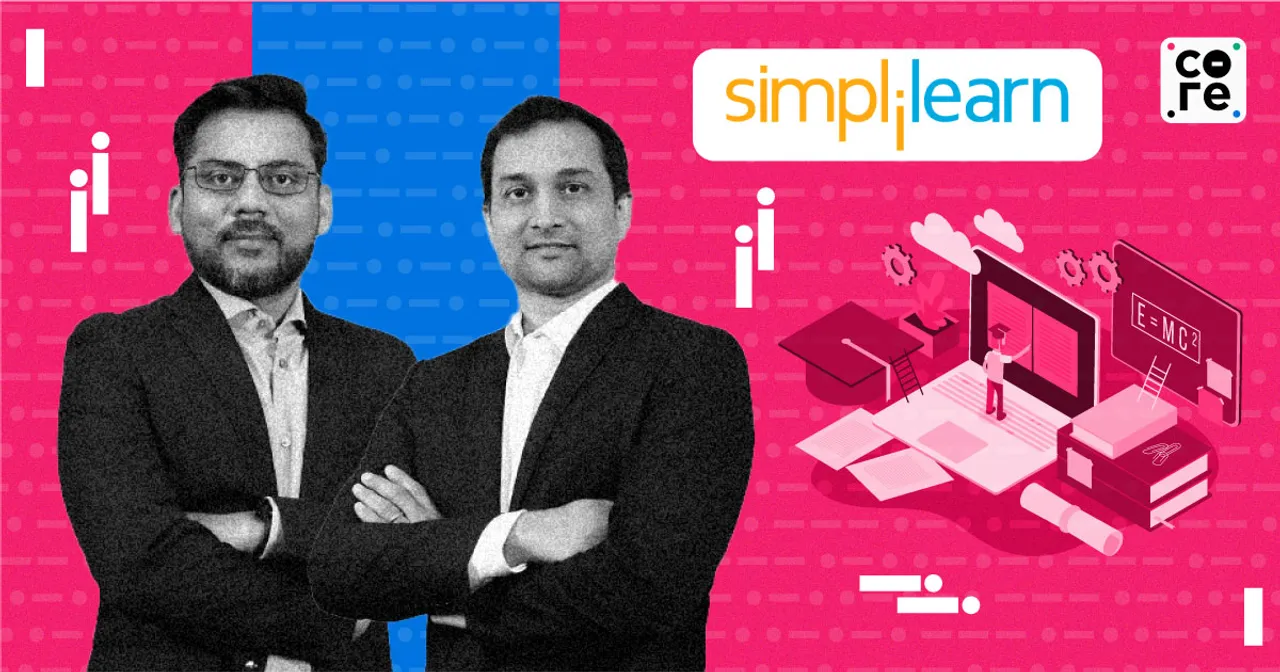 To say that the ed-tech space in India and globally has undergone significant changes despite the initial frenzy triggered by the Covid-19 pandemic in 2020 would be putting it mildly. The sector is almost unrecognisable despite seeing massive success just less than two years ago. Byjus, the poster child for the sector, has diminished to a fraction of its old self. Many other giants have turned into minnows and smaller players have disappeared without a trace. While the online higher ed sector has remained relatively stable in comparison to K-12, all online and tech-focused companies have been affected.
So when SimpliLearn's two founders Krishna Kumar and Kashyap Dalal looked at the carnage around them, they found they could say a joint prayer for the few things that have gone right for them. In November 2022, during a tough funding period for early-stage businesses, the mid-stage company secured a new investor. A consortium of lenders led by GSV Ventures invested $45 million at an undisclosed valuation. In 2021, the company sold 51% of its stake to Blackstone for $500 million, raising $250 million.
The founders had — unlike many others in the space — chosen to hold onto a substantial portion of the stake, in the hope that they could eventually get full value for their efforts when the business lists, which would be its eventual goal over the next three to five years. In contrast, at around the same time, Great Learning had sold out lock, stock and barrel to Byju's in a US $ 600 million deal, a decision with mixed results as time has shown and the business now goes up for sale again.
The fundraising came at the right time and allowed the company to do a "meaningful" acquisition of Fullstack Academy, a US-based bootcamp education company with an annual revenue of around US $ 35 million, in an all-cash transaction for an undisclosed sum, which allowed them to fill one gap in their own offerings through a strong, stable and thriving buyout. Dalal said that the company was able to acquire a good asset that gave it a clear advantage at a time when the prices were soft.
Feet On The Ground, Eye On The Ball
The founders have realised a few things and are making changes to keep their feet on the ground and eye on the ball. SimpliLearn has three segments in its business: the Indian consumer market, the US consumer market, and enterprise-to-enterprise. They plan to acquire at least two other businesses to bolster revenue in the enterprise and Indian consumer segments. While Fullstack Academy helps grow the US consumer market segment, Simplilearn is in talks to acquire two thriving businesses for these segments. The Fullstack acquisition helps add 16 new university partners to offer its boot camps in the US. Simplilearn already has partnerships with universities like MIT, Caltech, and Purdue, generating around $35 million in revenue. With Fullstack Academy, the US segment nearly doubled to about $72 million.
"We are not looking at distress sales. The idea is to acquire businesses that stand on their own right and doing well but might not get great exits or be able to expand as required in the existing scenario," said Dalal. Unlike some of their peers who have often bought struggling start-ups in equity swaps, SimpliLearn is keen to acquire small, profitable firms that fit in with their line of business. This would help increase their total annual revenue through non-organic channels, which is currently at around Rs 1200 crore. 
With the acquisition of Fullstack Academy, it now has 2,000 employees in India and around 350 in the US. The model remains people-intensive as it involves live delivery and constant support. Unlike companies like Duolingo or Udemy which are self-serve and self-learning once the content is developed and available, companies like Simplilearn have no option but to constantly invest in sales and delivery since many of the courses are over Rs 1 lakh in pricing. This requires a very robust sales, delivery and support team that constantly needs to be on its toes, points out an industry source.
Slow And Steady Growth 
The company has been far more circumspect in chasing growth. Post the pandemic, it had become de rigueur in the sector to try and grow at 100-200% in a year — growth at any cost while not worrying about profitability. 
Simplilearn, however, didn't blindly follow this trend. They were content with slower annual growth rates of 30-40% but on a larger scale. They also focused on profitability, which is now a priority for many competitors as well.
The company consistently made a profit until 2021. In 2021-22, due to significant investments, they didn't achieve a profit, but they are now back on track. They have positive contribution margins and expect to be profitable by the end of the current financial year, possibly by December. In general, as a business, they have invested in improving the product or the technology and therefore some years may show up as a loss on their books for a limited period but as a rule, they have refrained from "burning cash like water". 
Perhaps the most important focus area for the team is how it is trying to chase "free growth" to the extent possible. As things stand, it acquires new learners through a few clear channels: paid advertising including through Google and other platforms or affiliates, search engine optimisation, word of mouth and referrals. Of every ten new learners it onboards, four come through paid channels (advertising on Google, Meta and other platforms which currently costs the business almost a third of its total revenues) and six through the free ones although it is aiming to bring this down to two from paid and eight through free channels. To do this, it has to focus sharply on improving customer experience and outcomes for its learners since referrals and word of mouth are entirely dependent on this aspect.
 This is true for its US business too where the company ends up competing with the biggies of the business like Udemy and Coursera. Pramath Sinha, higher education expert and former dean of the Indian School of Business said that although the space the company is operating in is big, it is already quite a crowded one. So carving out a pie in a crowded market and growing it consistently will have its own challenges. He said that as the pressure to grow market share rises, the company might find itself competing with some of its own partners.
Remaining Worries
Two macro worries stay — more generic to all online and tech businesses today. One, the founders want to stay on the right side of the regulatory environment and the wider operating frameworks in different geographies through better disclosures and more transparency. This can derail businesses as it remains a factor largely out of one's direct control. Two, they need to figure out how best to negotiate the monopoly Google, Meta and other giants have developed, which becomes almost like an "existence tax" for online businesses
Internally, ensuring strong execution and making the right picks in what one buys and acquires can be crucial as Simplilearn moves ahead. In the usual Blackstone style of exits, sector insiders expect the company to list in the next three to five years. The proof of this pudding will then be before all eyes and for the eating.