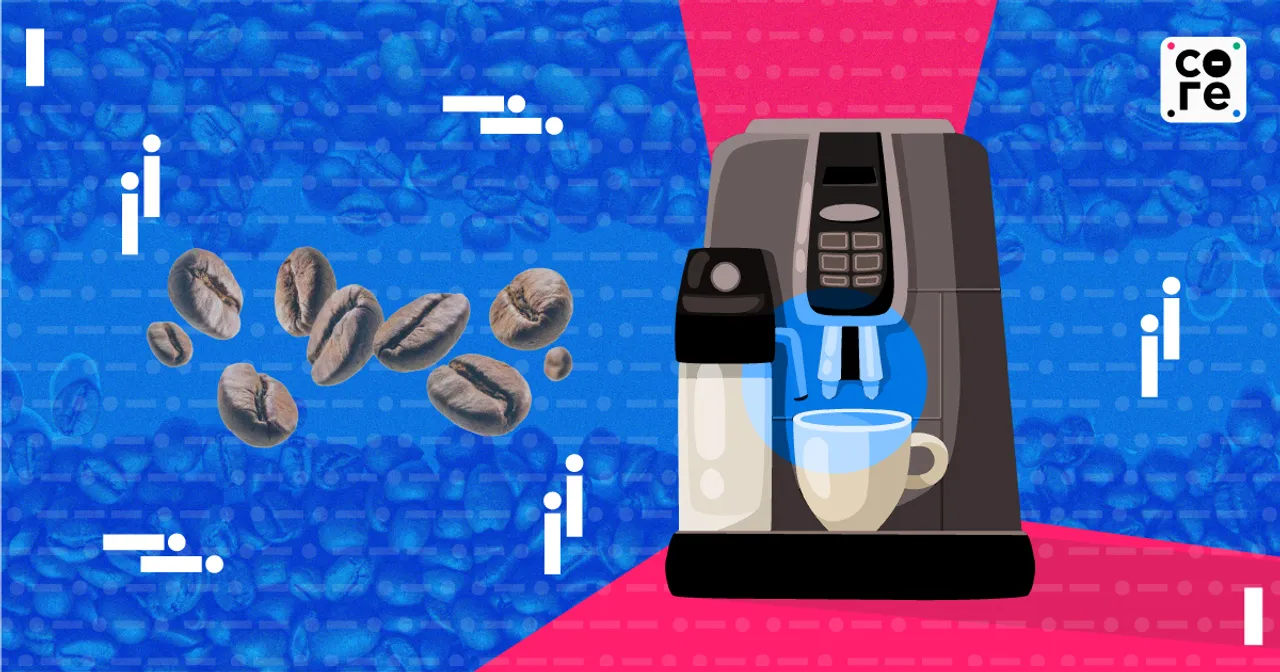 Have you ever seen an espresso shot being pulled? The sound of coffee beans grinding, the meticulous levelling of the puck and finally the creamy brown liquid pouring from the espresso machine – it's a treat to the senses. It does take a lot of skill and time to master, though. How about a machine that does all of this at the click of a button? You can get an espresso shot, a cappuccino, a latte, a macchiato, a flat white… you get the drift.
Millennial and GenZ Indians are getting more and more obsessed with coffee, not just drinking it, but also making it. The more affluent and older consumers are not much bothered about the art and science of brewing coffee. They do, however, want to have accessible and convenient Italian-quality coffee. 
The upshot? The sales of automatic coffee machines are seeing a surge. The machines seamlessly blend the taste of locally roasted speciality coffee with the convenience of a perfectly brewed coffee at the touch of a button. 
"Automatic coffee machines combine quality, convenience and design – a trinity that affluent consumers would readily pay higher prices for," Anurag Das of Kaapi Solutions, a primarily B2B coffee equipment seller, told The Core.  
These machines cost a pretty penny, with coffee connoisseurs spending close to Rs 1 lakh to own them. "An automatic coffee machine is not a kitchen appliance, it is a living room appliance. It is meant to be displayed," says Abhinav Mathur of Kaapi Machines, which sells coffee machines through B2B channels as well as Something's Brewing, a D2C marketplace.
Mathur said that over the past few years, the sales of automatic coffee machines have been growing at approximately 30-35% year-on-year.  
Pod Machines To Fully Automatic Coffee Machines
Before today's automatic bean-to-cup machines, pod machines dominated the coffee scene, with Nespresso leading the pack. However, pod machines come with their challenges—both repairs and the procurement of coffee pods or capsules for these machines prove to be not only difficult but also quite expensive.
"The Nespresso pods which sold for maybe a dollar or a euro abroad have a 100% import duty when brought to India, which is priced at around Rs 200 - Rs 250 per capsule. That's as much as an espresso-based coffee from Starbucks costs," Mathur said. Now, capsules as well as machines are manufactured within India by brands like Wonderchef, Coffezza and Lavazza. 
Pod machines are usually more affordable, ranging between Rs 10,000 and Rs 35,000, but have limited beverage options. They don't use freshly ground coffee, something that more affluent consumers with a more developed taste want. 
The demand for better coffee machines is also related to speciality coffee being sold in India, especially before and during the pandemic. Local roasters such as Blue Tokai, Third Wave Coffee, and Araku became popular for their unique blends. This found takers among a certain section of Indians with more developed tastes. As these consumers wanted to replicate similar coffee flavours at home, the demand for automatic machines soared. 
A fully automatic espresso machine has a hopper for the beans, a water tank, and an inlet for milk. Once the beans, water and milk are fed to the machine, at the click of a button the machine grinds the coffee, boils the water, pulls a shot and adds foam or milk depending on the beverage type. A starting range coffee machine priced at around Rs 70,000 would have at least 5-6 beverage options going up to lakhs for higher-end machines with 15-20 beverage options, more features and better aesthetics. 
Coffee Machines Are 'Serving' Their Purpose
Aesthetics are also important for automatic machines for another reason – they are meant to be shown off. The target consumers are not only coffee drinkers but those who like to serve it to others. People hosting guests at home or professionals meeting potential clients in workplaces are the majority of the target consumer segment, among others.   
"Many CEOs, MDs and CXO level individuals like to keep a coffee machine in their offices for personal use and to serve visitors to impress them," Das pointed out. 
The machines can have varied utilities at home. Mathur points out that an automatic coffee machine allows its owners to serve a variety of coffee-based drinks and desserts too. "A tiramisu or an espresso martini becomes very accessible to them," he adds.
The case with smaller cafes is also similar. Coffee has become more or less an essential part of menus for the smallest and biggest of food establishments. While some opt for espresso machines – which also require trained baristas to operate – others lean towards automatic machines for convenience. 
"For any establishment whose main offering is not coffee, an automated machine is preferred. An Italian restaurant, for example, would keep an automatic coffee machine because coffee is an essential part of the cuisine but not so much that they'd need a manually brewed espresso," Mathur said.
Who's Selling These Machines?
A majority of sellers in the automatic coffee equipment market are imported brands. During the pandemic, Indian home appliance giants like Philips and Orient Electric got Italian brands like Saeco and De'Longhi to Indian markets. The basic model of De'Longhi starts at Rs 85,490 and goes up to Rs 2,49,990. Saeco's super-automatic machine is priced at Rs 74,995. Gaggia has machines ranging from Rs 69,000 to Rs 2,14,999.
Kaapi Machines introduced their own brand, Budan, after seeing sustained demand for coffee equipment in India. Its automatic coffee machine uses capsules or ground coffee and is priced at Rs 29,999. Wonderchef is another Indian brand for automatic coffee machines under its Regalia range which is priced at Rs 1,25,000.
"The brands who entered this market saw great pickup during the festive season of 2021 and that growth has continued over the next two years as well. This is the third full year for the segment and there are four to five brands competing in the space and all are doing quite okay," Mathur said. 
Kaapi Solutions registered a 105% year-on-year growth in sales of home brewing equipment in FY 21-22. Das explained, "This is the combined growth in manual as well as automatic brewing equipment. While manual equipment sales volume is higher, the bigger ticket size of automatic machines has led to more contribution in revenue."  
The consumer touchpoints for these machines are also different from manual machines. National retailers like Croma and Vijay Sales have also started stocking coffee machines, both manual and automatic, gauging the rise in demand.
"Offline retail and experience stores become very important in this segment as consumers like to judge the look and feel of the product and also taste the coffee before making a big purchase," Das said.
Aspirational Consumers Are Growing
For a lot of millennials who have grown up drinking coffee, and are habitual to drinking coffee, an automatic machine is an expensive but valuable buy. As an EMI-familiar generation, coffee machine purchases seem likely in this consumer segment. 
Das makes a clear distinction between manual and automatic machine consumers. "Those who are experimental and serious about their coffee would always prefer a manual machine but those who like coffee just enough to value convenience over experimentation would go for an automatic machine," he said. 
The growth in both these kinds of consumers, however, is like never before.