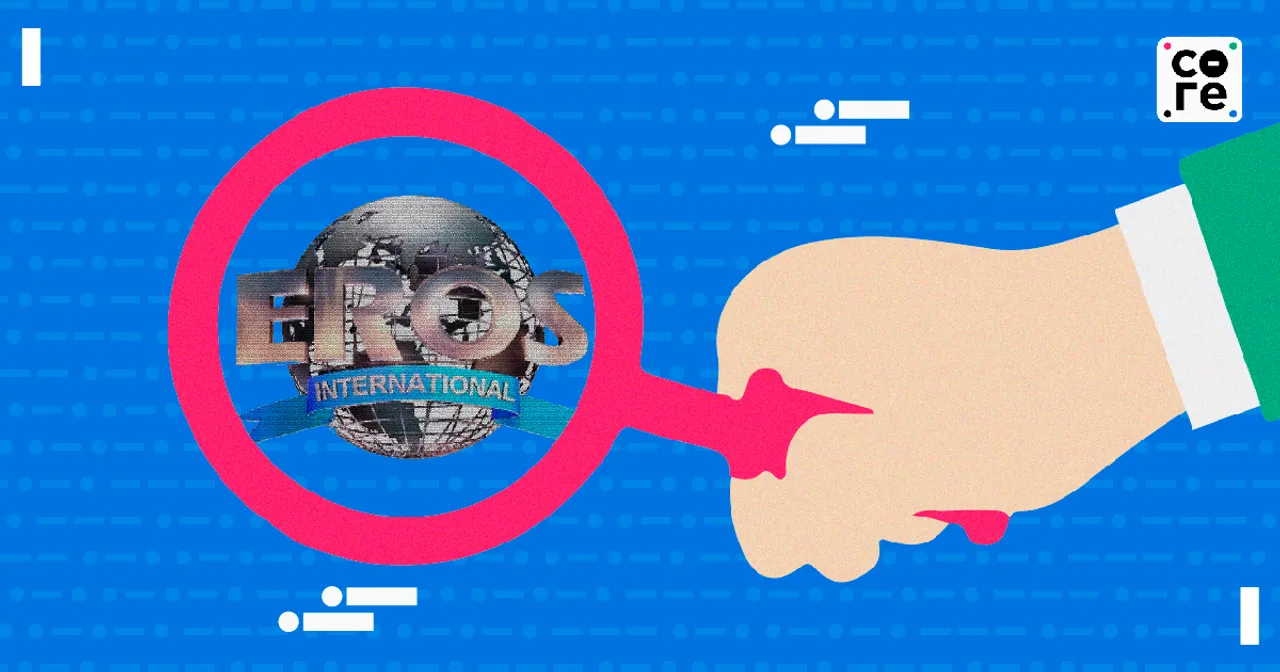 Eros International Media, the renowned company behind blockbuster films like 'Bajrangi Bhaijaan' and 'Bajirao Mastani', is under the scanner of the Securities & Exchange Board of India (SEBI) for a series of alleged corporate governance issues, accounting frauds, and promoter fund diversion.
SEBI has barred the company's promoters and CEO Pradeep Kumar Dwivedi and its vice chairman and managing director Sunil Arjun Lulla from participating in the securities market and holding any directorial position in any listed company, including Eros International and its subsidiaries. 
SEBI also directed the Bombay Stock Exchange (BSE) to appoint a forensic auditor for three listed entities within three months: Thinkink Picturez Ltd. (market capitalisation - ₹305 crore), Mediaone Global Entertainment Ltd. (market capitalisation - ₹80 crore), and Spicy Entertainment and Media Ltd. (market capitalisation - ₹6 crore). These entities account for significant portion trade receivables and content advances. Eros was mandated to submit a detailed report on the end-to-end utilisation of funds through "content advance entities'' within 30 days of the order.
The fact that Eros Worldwide FZ and Eros Digital Private Ltd have been banned from accessing the securities markets "until further notice" shows how severe the malpractices could be. 
Also Read: SEBI's Plan To Regulate Mutual Fund Expenses Will Benefit Investors: Here's How
Let's take a look at what led to the probe. 
What triggered the SEBI investigation?
1. Overstating its books to tune of Rs 1500 crores and writing off trade receivables to tune of Rs 500 crores in FY20. This led to total assets of the company falling sharply from Rs 4200 crore in FY19 to Rs 2500 crore in FY20.
2. The BSE in preliminary examination found that a significant portion of revenue and trade receivable is concentrated to related parties.

What to know about Eros
Established in 1994, Eros initially focused on exhibition and distribution of TV and films. In 2010, the company did an initial public offer (IPO) valued at Rs 350 crores, making its shares available for trading on both the BSE and the NSE. However, after a span of 13 years, the company's current trading value has dipped below its IPO valuation.
Eros is into the business of production of movies and content. For this company hires vendors and pays them advance for content creation. This is called content advances/film rights/ goodwill.

SEBI's inquiry began with a meticulous examination of Eros International's financial statements.
Impairment of assets
The fiscal year 2019-20 proved particularly revealing, with Eros International making provisions of a staggering Rs 1,553.5 crore toward impairment on content advances, film Rights, and goodwill. Simultaneously, trade receivables worth Rs 520 crore were abruptly written off, raising eyebrows.
Bogus Transactions
Further examination revealed that Eros made no efforts to recover the amount, with demand letters issued more than a year after the dues became overdue, and no legal action taken.

To verify the genuineness of the transactions, SEBI sought documentary evidence from Eros which was eventually found to be incomplete. After this, SEBI directly sought clarifications from the entities i.e. trade receivables.

Surprisingly, a significant portion of summons by SEBI to those entities remain undelivered. They also failed to reply to SEBI's clarifications and provide information sought. Submissions made by few directors of those entities seemed to suggest these directors were dummies and that the companies were being controlled by others.
Trade Receivables From Bogus Entities
Most of the companies associated with Eros were found to be paper companies with dummy directors, as their revenue apart from transactions with Eros were negligible. Even on the Goods and Services Tax (GST) portal, most of these companies were not involved in the media business. 
It was discovered that 60% of the money received by Eros from two companies, Silver Frame and Venu Visuals, since 2012-13 was indirectly funded by Eros on the same day. These 19 trade receivables were found to be involved in bogus entries, accounting for a significant percentage of revenue from 2012-13 to 2019-20.

The following illustration by SEBI highlights the source of the transactions.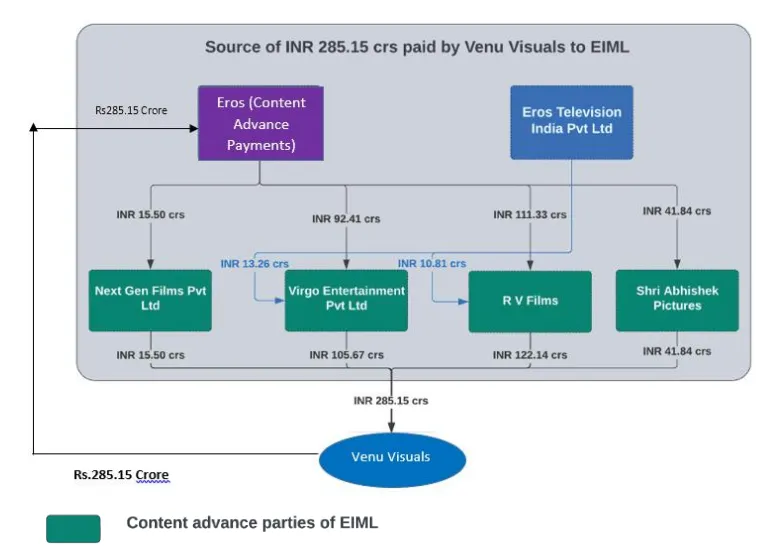 It appears that company overstated its books by recording revenue receivable from potentially bogus entities and subsequently round tripping its own funds to these entities to enable them to make payments against the revenue that has already been recognised. 
Over the years, the revenue from these 19 entities came to represent a significant portion of the total earnings of Eros: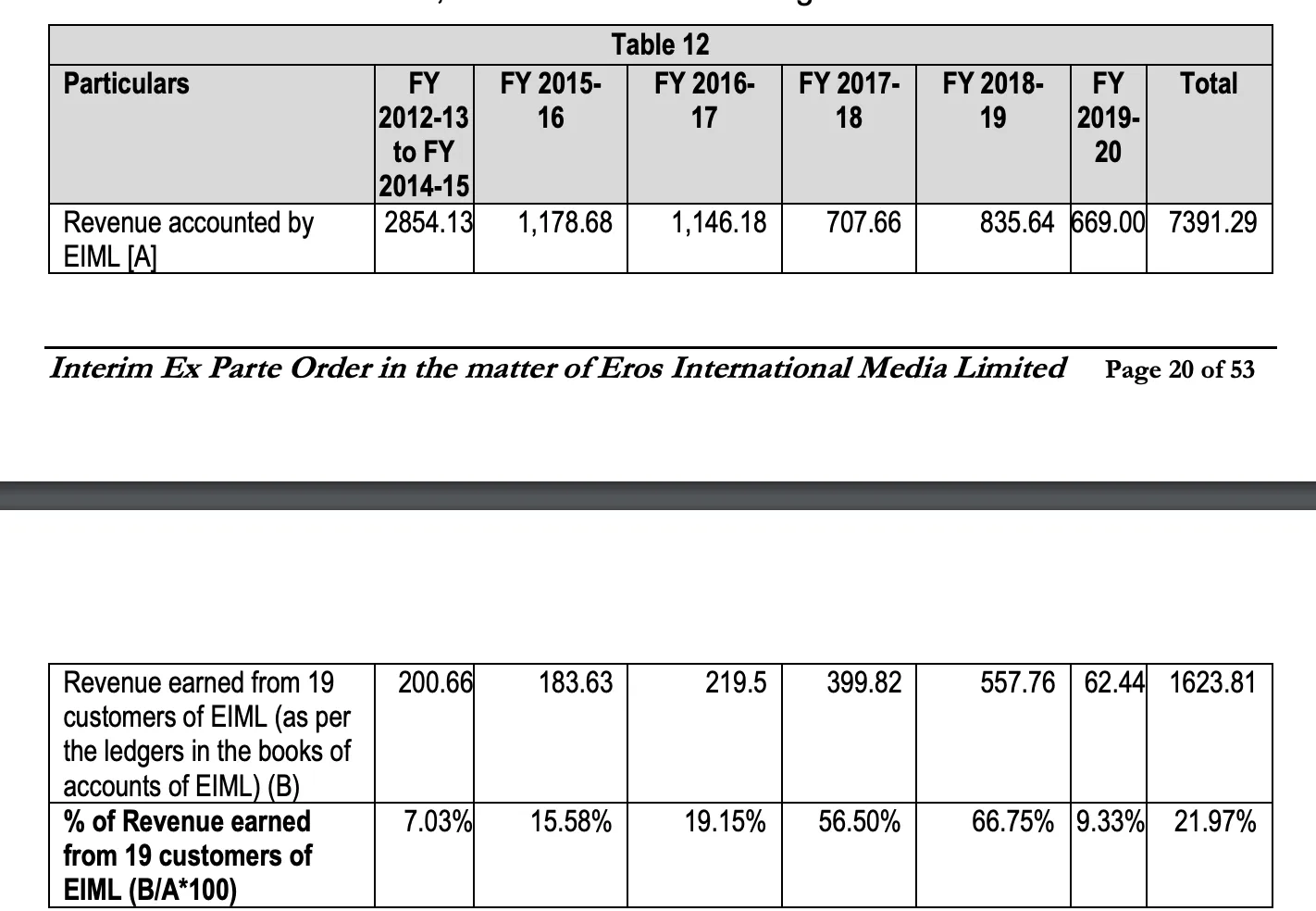 Fund Diversions - Content Advances

Eros impaired/wrote-off Rs 1,172.41 Crore or 77.22% of total outstanding content advances. This further represented 88.8% of the total content impairment/write-off made by Eros. When SEBI summoned the directors of these firms (i.e. Content Advance Entities) to appear before it, they claimed they were unable to travel to Mumbai because of health issues.
The only director who attended the summons said he was not aware that he was appointed director of a company. He claimed that due to his poor financial condition, he gave his KYC documents (PAN, Aadhar and Photo) to a person for which he has paid a sum of Rs 500 per month.
Interestingly, some of the entities involved in content advances had no legitimate involvement in the movie or content-making business. 
A substantial amount — Rs 1,247.49 crore — was identified as untraceable (neither any film rights were created nor the funds returned to Eros) and 94% of this amount (Rs 1,172.41 crore) was subsequently written off by Eros. Therefore, to understand the actual utilisation of the funds provided by Eros, the bank statements of the aforesaid entities for the period 2012-13 to 2019-20 were examined. 
The analysis revealed that prima facie, Eros appeared to have diverted funds using these CAEs since FY 2012-13. 
The still ongoing SEBI investigation has, at this stage, found that potentially Rs 686.37 crore out of untraceable Rs 1,247.49 crore was siphoned off by Eros.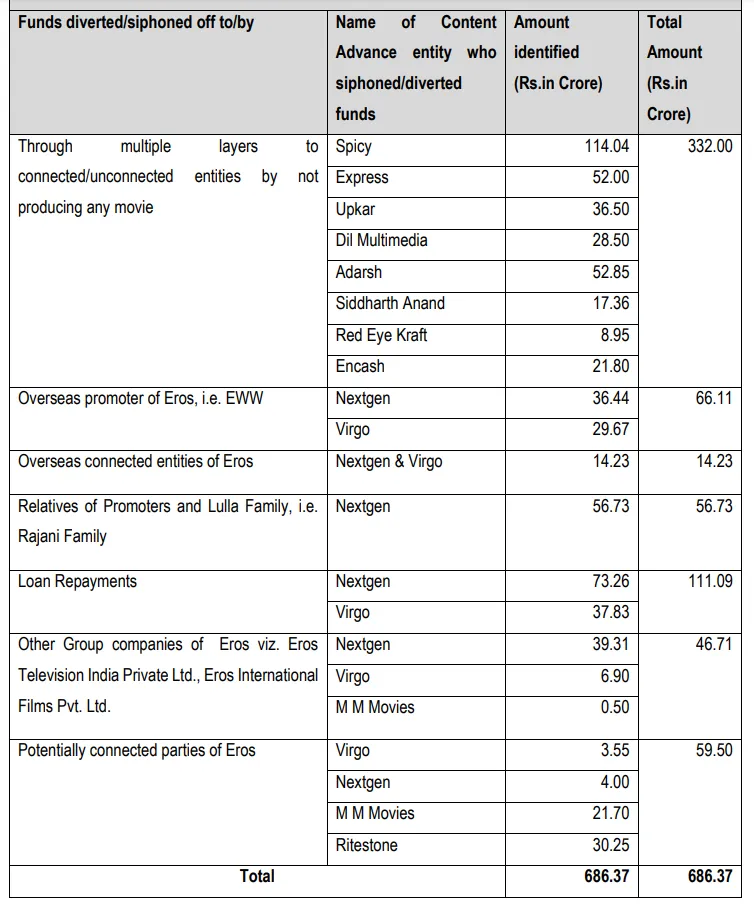 From the Rs 686.37 crore disclosed in SEBI order, the transfer of a substantial Rs 66 crore from Eros International to its overseas promoter, EWW in Dubai, raised immediate concern. Further scrutiny revealed that content advance entities had transferred Rs 14.23 crore to overseas-connected entities, such as Velocity Films Ltd (UK) and Globus Ent FZE (UAE). 
Further Revelations
It was discovered that Eros entered into agreements to produce the same movie, 'Desi Boyz 2', twice — in 2014 and 2022. Payments were made to Eros overseas entities in 2014. 
A significant portion of the siphoned off funds — Rs 57 crore — ultimately found its way to a relative of Eros International's promoters, Vikram V. Rajani. He happens to be managing director Sunil Arjan Lulla's brother-in-law. 
Additionally, Rs 46.71 crore was siphoned off to group companies, namely Eros Television India Private Ltd and Eros International Films Pvt Ltd, utilising content advance entities as conduits. 
From 2014 to 2019, Eros financed a company called Nextgen for movie productions (where Nitin Kishor Boricha is the director). Nextgen diverted the funds to Rajani's bank account or to repay existing loans.
Even after 2020, EROS continued to make payments to the same content advance entities, despite having already impaired substantial amounts. Surprise visits by the BSE to entities associated with Eros' 
listed trade receivables found that the registered offices were permanently closed and non employee was present on premises. 
In the fiscal year 2021-22, the auditor qualified the audit report, stating their inability to obtain sufficient appropriate audit evidence. It was found that 95% of the revenue booked in FY 2019-20, 2020-21, and 2021-22 originated from related parties that are currently under investigation by the SEBI as trade receivables.
Notably, EROS standalone revenue witnessed a decrease of over 60% from FY 2019-20 to FY 2020-21 and FY 2021-22, while trade receivables continued to increase.
The promoter's shareholding witnessed a significant decline from 62.39% in March 2019 to a mere 16.25%. This sharp decrease can be primarily attributed to the invocation of pledges and the subsequent sale of shares in the market by Eros Worldwide.