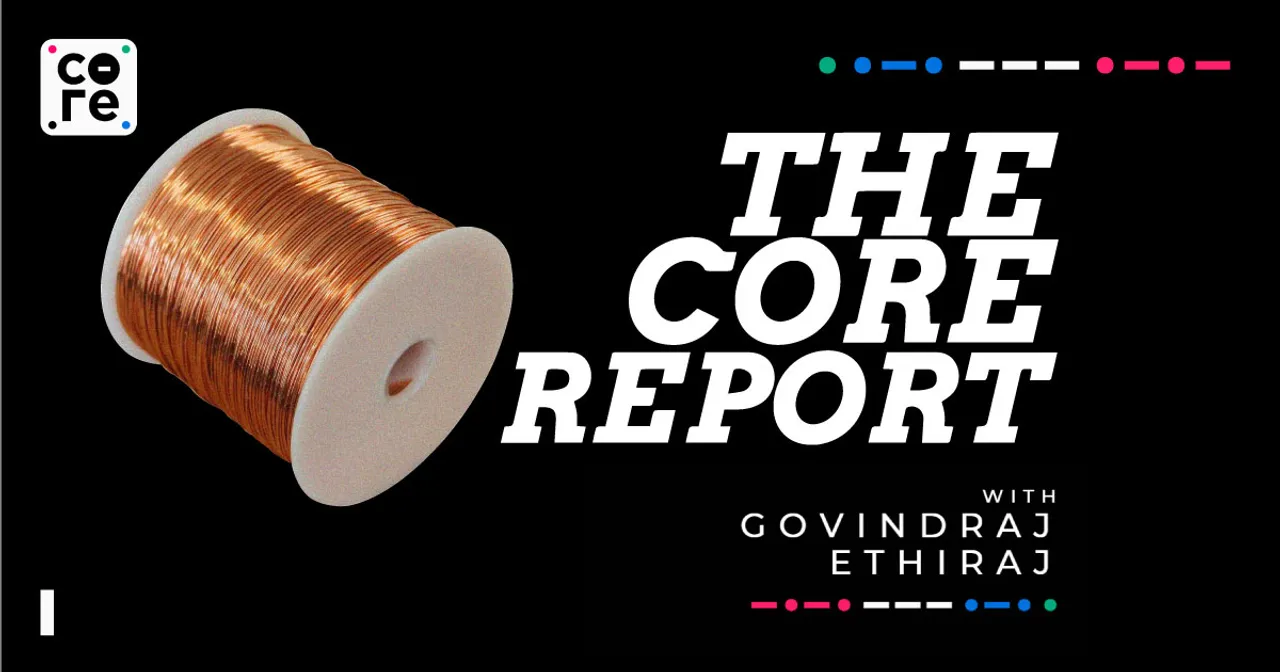 On today's episode, financial journalist Govindraj Ethiraj talks to Mayur Karmarkar, head of the International Copper Alliance India, Krishnan ASV, BFSI Lead Analyst, Institutional Equities at HDFC Securities, as well as Dr R M Anjana, managing director, Dr. Mohan's Diabetes Specialities Centre.
---
Our Top Reports For Today
<00:56> Indian Markets Pause Again, The Dow Jones Has Longest Run in 36 Years
<04:09> If banks are doing so well, is the rest of the economy doing well too ?
<15:49> There is excitement around copper, set to see fresh capacity.
<26:17> Working For Home, Why You Are A Big Candidate for Diabetes. With Dr R M Anjana
---
TRANSCRIPT
NOTE: This transcript contains only the host's monologue and does not include any interviews or discussions that might be within the podcast. Please refer to the episode audio if you wish to quote the people interviewed. Email [email protected] for any queries.
Markets Pause
Markets paused again today. Evidently, the bears are now flexing their muscles, being the second time in a week.
The BSE Sensex ended the day with a loss of 440 points at 66,267 while the Nifty 50 ended 118 points lower at 19,660.
Meanwhile, the US economy, an important trigger for markets world over, grew much faster than expected in the second quarter. Gross domestic product increased at a 2.4% annualised rate last quarter. The economy grew at a 2.0% pace in the January-March quarter.
If you were feeling a little low about the Indian markets, hope you can take some comfort from Wall Street. The Dow Jones Industrial Average pulled out its longest winning streak in 36 years to mark its 13th straight session in the green.
A bit like a well fought Wimbledon finals where the eventual winner keeps coming back and gaining. I wouldn't extend the analogy too far though.
The 30 stocks of the Dow haven't pulled off a streak that long since 1987, nearly giving up a 170-point gain before holding onto its positive momentum before the session ended.
There are some things markets don't like, possibly surprising investment decisions. Auto maker Mahindra & Mahindra's shares fell close to 7% in intra day trade, after it announced it had acquired a 3.5% stake in RBL Bank, a private bank, for Rs 417 crore, while indicating, it may take the stake up to 9.9%, the maximum being 10% allowed for a corporate or business house to acquire in a bank as per RBI rules.
M&M runs M&M Financial Services and there could be some synergy there but what that could be is not clear at this moment.
Mahindra Finance as M&M Financial started life as a captive financier for M&M vehicles including tractors in the early 1990s, 1991 to be specific - according to the company - and then switched to becoming a more general purpose financier for rural markets .
Mahindra Finance employs 24,000 people and works in more than 380,000 villages and has assets under management of over Rs 82,000 crore.
So it's not small. And a strategic tie-up with RBL Bank would work, somewhere.
RBL Bank, itself started life as Ratnakar Bank just before independence but has changed colours, ownership and profile. It has a network of 517 branches and 1,166 business correspondent branches of which close to 300 are banking outlets and spread across the whole country.
Some Food For Results.
If you consumed Kitkat, Nestle or Maggi, in the last three months, you might be pleased to note that you contributed to Nestle's 37% jump in net profits for the June 2023 quarter over last year. This is the second quarter for Nestle though as it goes on a calendar accounting.
"This is the fifth quarter in a row of double-digit growth across all product groups. Domestic sales growth is broad based and grew by 14.6 percent. Key brands continued to perform well, led by KitKat, Nescafé and Maggi among others," said Suresh Narayanan, Chairman and Managing Director, Nestlé India.
How Well Are India's Banks Really Doing And What Do Their Results Reflect?
India's banks, particularly privately run banks, had a very solid last quarter. To give you a few quick illustrations, ICICI Bank posted a 40% year on year growth on net profits, even beating analyst estimates. All other indicators like net interest income and asset quality were better.
Kotak Bank, whose headquarters is a short walk and around the corner from ICICI Bank in Mumbai's financial hub Bandra Kurla Complex, reported a 51 percent year-on-year rise in its consolidated profit while
net profit on a standalone basis rose almost 67%, again beating analysts' expectations of a 53 percent growth.
HDFC Bank, the combined entity reflecting the older non bank finance company and mortgage lender HDFC's assets and businesses as well, reported a 30% growth in net profit, again beating estimates.
Even a smaller one like the Thrissur-based South India Bank recorded a 75% growth in net profit for the quarter ended June 2023.
On the other hand, the Indian Express reported that banks write off bad loans worth around Rs 209,000 crore or around $25 billion during the year ended March 2023, taking the total write off in the last 5 years to Rs 10.57 lakh crore or around $129 billion.
That the banks were writing bad loans is not news, that they are doing so even now, sounded a little new.
Equally, the gross non performing assets of banks or the loans which have not been repaid has touched a 10-year low of around 4% of advances.
If we go back a decade, to 2012-13, then the total write-offs touch $187 billion. But this is mostly known, at least in general if not specific and has also been the subject of much political discourse.
So there are a few larger questions.
First, if banks are doing so well, then what does that say, if anything about the underlying state of the economy, at least as viewed through this lens.
Second, are all banks doing as well or only some and thus the cracking numbers.
And finally, where are we on the NPA front and overall health of the banking sector, including the baggage of the past.
To understand this better, I spoke with Krishnan ASV, Lead Analyst - BFSI, Institutional Equities at HDFC Securities.
And I began by asking him how and why the results were so strong.
---
The Excitement About Copper
Copper is used in a dozen places in and around your home and vehicle and perhaps whatever you are holding or touching right now.
And this was news to me, as logical as it might sound. For every 1 MW of solar power, you need 2.5 tonnes of copper in contrast to let's say 1 tonne for thermal based power generation.
And electric cars take up 4 times the copper as compared to a regular internal combustion engine like petrol and diesel. The wire harness in a regular car is about 1.5 kg while with all the battery and wires running up and down, it's 6 kg in an electric car, approximately.
The problem with copper is that not enough of it is made in India.
Sterlite Copper had a plant running in Tamil Nadu which was shut down following environmental protests in 2018. It represented roughly 40% of domestic production.
Help is at hand with the Adani Group saying its copper-producing factory at Gujarat's Mundra will begin operations in March 2024. The greenfield copper refinery project is being made at a cost outlay of Rs 8,783 crore and has an annual production capacity of 1 million tonnes (MT) which at peak should just about take care of India's needs at this point. Though demand will keep rising.
Interestingly, roughly a third of total global demand is met with recycled copper.
To get a sense of the copper landscape and why not too many businesses were investing in copper, I reached out to Mayur Karmarkar, head of the International Copper Alliance India. I began by asking him to define the current copper landscape.
---
Diabetes and work from home
A recent ICMR-led study has recorded some 100 million individuals with diabetes and 136 million with prediabetes in India, a 44 per cent increase in the last four years.
Its lead author Dr R M Anjana, managing director, Dr. Mohan's Diabetes Specialities Centre features on the Core Report weekend edition and speaks about why diabetes needs to be tackled urgently and why we are more vulnerable than before.
---
Catch that full conversation on The Core Report Weekend Edition on Saturday.
Have a great weekend meanwhile and see you Monday morning.
Meanwhile, my thanks to Dr A Velumani, founder of Thyrocare and Deepak Maheshwari for their comments and feedback.