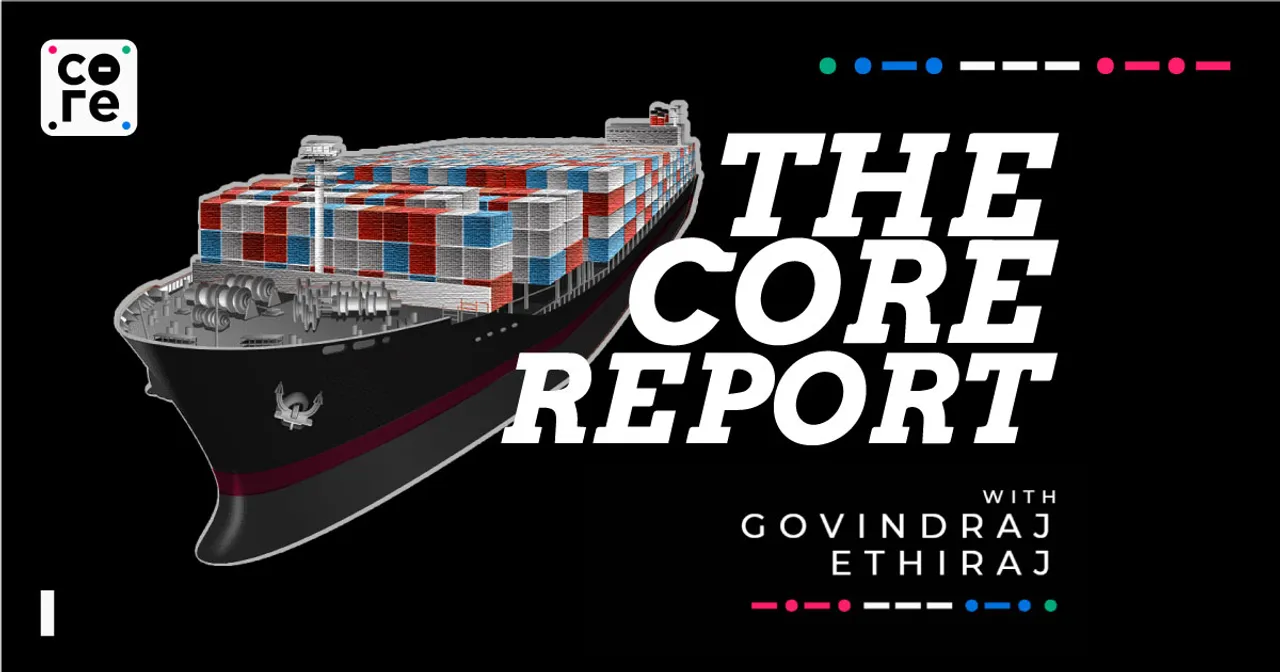 On today's episode, financial journalist Govindraj Ethiraj talks to Ajay Sahai, CEO of the Federation of Indian Export Organisations as well as Ajai Chowdhry, co-founder of HCL, and advisor to the Government's India Semiconductor Mission.
---
<00:55> India's exports decline for 4th month in a row as a global economy slowdown takes grip with Ajay Sahai
<09:00> Why this value investor bet on an ITC stock in 2020
<13:04> India's semiconductor plans are ambitious but how strong is the business case? with Ajai Chowdhry
<18:25> The Microsoft stock is on fire as it lines up a strong suite of generative artificial intelligence into its suite of products
---
TRANSCRIPT
NOTE: This transcript contains only the host's monologue and does not include any interviews or discussions that might be within the podcast. Please refer to the episode audio if you wish to quote the people interviewed. Email [email protected] for any queries.
Good morning, it's Friday, the 16th of June and I'm Govindraj Ethiraj, coming to you from Mumbai, India's financial capital currently rained in.
Our top reports for today
India's exports decline for 4th month in a row as a global economy slowdown takes grip.
An ITC Stock and theme story and why this value investor bet on it in 2020.
India's semiconductor plans are ambitious but how strong is the business case?
The Microsoft stock is on fire as it lines up a strong suite of generative artificial intelligence into its suite of products.
Trade Data
Economists at the World Trade Organisation in April had predicted that growth in 2023 was expected to be sub par and grow by 1.7% as opposed to 2.7% in 2022.
The reasons for this were the war in Ukraine, stubbornly high inflation, tighter monetary policy and financial market uncertainty.
This is now playing out in India's numbers as well.
India's exports for the month of May declined 10.3% to $35 billion while imports fell 6.6% to $57 billion, according to data shared by the Government's trade ministry yesterday.
More importantly, India's exports have now contracted for the fourth month in a row, after contracting 12.7 per cent in April due to the global demand slowdown even as the trade deficit reduced to a 20-month low of $15.24 billion.
India's exports crossed $750 billion last financial year, leading to much cheer all around. Of this, physical exports touched $447 billion, from $422 billion, an increase of 6%.
India's trade minister Piyush Goyal two months ago said India would achieve $2 trillion of exports by 2030, or in 7 years time.
He said $1 trillion would be product or physical goods and $1 trillion would be services, or the kind of work IT services company do.
To understand the significance of this slowdown, expected as it may be, which areas could be hurt more and the outlook ahead, I spoke to Ajay Sahai, director general and CEO of the Federation of Indian Export Organisations, which works with over 100,000 exporters reflecting over 70% of India's exports.
A slowing global economy that has been projected elsewhere has multiple levels of impact.
For example, a slowing global economy has a domino effect on other, perhaps not so obvious streams of income.
Take, global remittance flows to India which grew 24% to hit $111 billion in 2022.
The growth figure is expected to decelerate sharply to just 0.2% in 2023 because of slower growth in the OECD or organisation for economic cooperation and development countries, according to the latest Migration and Development Brief released by the World bank.
Remittances represented 3.3% of GDP in 2022 unlike many smaller countries where remittances constitute substantial chunks of their national income. Nevertheless, the impact would be felt more in some parts of the country than others.
Also, did you know, as the report says, that almost 36% of India's remittances come from the high-skilled and largely high-tech Indian migrants in three high-income destinations (United States, United Kingdom, and Singapore), where the post-pandemic recovery led to a tight labour market and wage hikes that boosted remittances.
ITC
What's common to packaged paneer pakoda, coconut water, Bingo chips, Savlon soap, flour for making chapati and if you have not guessed already, cigarettes.
The answer is ITC, a tobacco to consumer products and hotels company which is more of conglomerate with diverse businesses housed into a single entity.
It's stockprice is something most marketmen made fun of, until recently of course. It seemed to hover between Rs 200 and Rs 300 for almost a decade till it slipped below Rs 200 during peak Covid in 2020 though not as much as many other stocks. It closed today at Rs 448.
Am keeping today's theme a little more linked to the stock and the buying of it since the company's businesses, interesting and diverse as they are, would take much longer to dive into.
Some very recent background now, ITC clocked gross revenue for the year ended 2022-23 at Rs 69,480 crore, up 17.6% from the previous year. Profit after tax stood at Rs 18,753 crore, up almost 24.5%.
This are unusually high numbers for a mixed business company like ITC, always known as a tobacco company and working hard for at least three decades to change that perception by diversifying aggressively into consumer products, hotels, agri business and paper.
Today, ITC's cigarette business is worth Rs 28,207 crore while it's consumer product business - comprising a whole range of brands some of which i mentioned earlier - is worth Rs 19,123 crore.
It's agri business including leaf tobacco exports is Rs 18,172 crore, paperboards and paper is Rs 9,081 crore and hotels with 121 properties is Rs 2,585 crore. The hotels segment by the way has some very interesting launches int he
ITC says its approach now is to build on a portfolio of 25 mother brands, which already reflect an annual consumer spend of over Rs 29,000 crore.It says it will grow organically and through acquisitions, as it did with the brand Savlon for soaps, skincare for Charmis and spices with Sunrise.
For now and for time reasons, I will reproduce a conversation I had with Aswath Damodaran, professor of Finance at the Stern School of Business at New York University where he teaches corporate finance and valuation courses in the MBA program. Damodaran is considered a guru on valuation and I had the opportunity to speak to him over a TedX Gateway conversation in the peak of Covid in June 2020, when buying stocks was the furthest from most people's minds.
Where Are We On Our Semiconductor Dreams ?
India's first semi conductor manufacturing plant by Vedanta Foxconn has faced some stumbles in getting approvals though the company says it is hiring people, typing up suppliers and customers and all set to break ground in Dholera in Gujarat in November. Vedanta Foxconn CEO David Reed told Business Today that he is seeing both Indian and overseas customers for their product.
He said the plant aims to start by first half of 2027 for the 40 nanometre plant. So why 40 nanometre and not the most advanced 28 nano metre which Vedanta Foxconn first applied and got stuck ?
Well the answer to that is the consensus here is that India needs the 40 nano metre more than the 28 nano metre.
I got some more strategic insights into how India is approaching it's semiconductor ambitions, why and I also asked if it makes business sense for the Government to come in with 50% and more of incentives in a conversation with Ajai Chowdhury, co-founder of HCL, widely regarded as a father of Indian computer hardware and also advisor to the Government's India Semiconductor Mission..
My conversation with Ajai Chowdhry will be out this saturday as part of our weekly series "Connecting The Dots", so head over to the core's youtube channel (link will be in the description) and subscribe, to get first access to the full interview."
And before I go..
Microsoft is the latest old, new kid on the AI block, at least from a markets perspective.
The stock is on fire as the Bill Gates founded software giant now introduces generative artificial intelligence features into its suite of products and more specifically OpenAI into Excel, Power POint, Outlook and Word.
To get a sense on how it works, search for Microsoft Copilot on google or YouTube and watch one of their product videos. If you use powerpoint frequently and particularly using numbers and trends, then you will be amazed with the kind of intelligent computation and analytics you can potentially do even as you convert to visuals.
Bloomberg says Microsoft is OpenAI's largest shareholder, its biggest financial backer and its key technology partner. And to a great extent, it's Microsoft that now has the responsibility of turning ChatGPT's buzz into a real business.
Which it presumably is.
Meanwhile, Microsoft stocks have already risen over 43% this year.
That's it from me, have a great weekend, do share this podcast with friends and family if you like it, check out our weekend video Connect The Dots and see you Monday morning !